Much like Bitcoin, Ethereum or simply Ether is an open-source decentralized blockchain technology that's distributed via user computers around the world, allowing developers to include a new functionality called Smart Contracts. Smart Contracts include a programmable script aspect, tolerating more applications, such as the creation of ownership, store registries, markets, promises or debts, and many other features, which haven't been considered. Since the programmable aspect has been created, Ethereum offers many more opportunities that Bitcoin and other cryptocurrencies have not been able to provide.
Launched in 2015, Ethereum forms part of the new decentralized online currencies, offering users the opportunity to trade efficiently and securely without the assistance of a central establishment such as a bank. Therefore, users have much greater control with Ethereum when trading or using the currency for online shopping, investing, or casino games.
Below, we look at the various aspects Ethereum offers while also covering details about the currency such as the history, how to register, how to use Ethereum at online casinos, and much more.
Best UK Ethereum Casinos
The History of Ethereum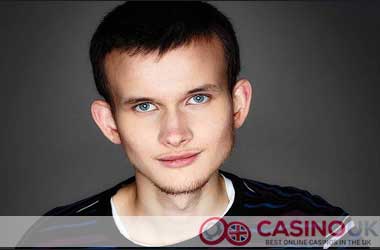 Ethereum was founded by Vitalik Buterin who formed part of the Bitcoin programming team in 2013. With the goal to introduce additional functionality to the cryptocurrency, such as a scripting language that can be used for applications. However, after failing to get consent from Bitcoin, Vitalik proposed the development of a new currency that includes these added applicational features with a script, which is now known as Smart Contracts.
With a team of 4 developers, including Vitalik Butenrin, Anthony Di Lorio, Charles Hoskinson, and Mihai Alisie, the official project started in 2014. The program initialized through Ethereum Switzerland GmbH, which is a non-profit organization. July to August 2014, the project was funded by a public online crowd sale that allows participants to purchase Ethereum currencies (Ether) with Bitcoin.
During early development the project received approval, but many questioned the scalability and security of the system.
Prior to the official release of Ethereum, the foundation released a range of prototypes as their proof-to-concept series. The latest release of these prototypes was known as Olympic, which was created for stress testing of Ether. The platform offered a total of 25,000 Ether in bug bounties for the Ethereum blockchain.
In July 2015, the foundation released the Frontier network that was used to mark the experimental platform of Ethereum. Since, the platform has undergone various upgrades and changes, called milestones that redefine the functionality of Ethereum.
Currently, the platform is operational on their Homestead milestone, which is now stable. There are also 2 other upcoming milestones for the platform, called Metropolis and Serenity. Metropolis will provide added flexibility for the Smart Contracts feature along with simplifying the EVM. As for Serenity, the changes for the purpose of the milestone is still unclear.
The DAO Hard Fork
In 2016, the DAO (a decentralized autonomous organization) raised a record of USD150 million with the crowd sale to provide additional funds for the project. However, in June 2016, USD50 million was engaged by an anonymous entity. As a result of the missing funds, the platform was divided in 2, including Ethereum Classic and Ethereum, which is the subject of this article.
In 2016, the Ethereum platform suffered another 2 attacked in 2016's four quarters, but by the end of November 2016, the foundation had de-bloated the blockchain and increased its DDoS protection to ensure further attacks aren't possible.
How to Purchase Ethereum
Unlike other online payment options such as PayPal or NETELLER, Ethernet is a currency that's decentralized, meaning no banks are involved. Therefore, to use Ethereum for online transactions or to even purchase the currency, an e-wallet is required. The range of Ether web wallet differs from those available for international currencies such as USD, EUR, and GBP. Thus, regular web wallets cannot hold Ethereum.
Various online wallets have been created that provide the needed features for a cryptocurrency, such as Coinbase and CEX.io along many others. Once you have an account with either of these establishments, the opportunity to purchase and trade Ethereum becomes available.
Account Creation and Verification
The above-mentioned cryptocurrency wallets offer the ability to purchase Ethereum and other cryptocurrencies in over 30 countries with easy to use steps in place. To create an account, visit their websites and hit register. The process requires personal details of the account holder, mobile number, email address, and other information such as a physical address. Once completed, an email or SMS verification code is sent, which needs to be entered on the website.
Further verifications are required when linking a bank account. For example, CEX.io have incorporated a highly secure system that requires photographs of the credit card along with a photo of you holding the card and a copy of your ID. Therefore, CEX.io can be 100% sure that the account belongs to you.
Buying Ethereum
Once an account has been verified, visit the buy/sell option listed at the top of most Ethereum wallets. Here you'll find all the cryptocurrencies available along with the current values. Both Coinbase and CEX.io offer instant purchases, allowing members to buy at the price shown instead of waiting for another user to sell their holdings.
Most wallets provide detailed information regarding its posted value and offer a calculator where the value of your currency can be added to show the amount of Ethereum you'll require or the value of Ethereum that shows the total amount of USD, GBP, or EUR. The sell page offers the same layout and calculator, which already includes the fees and commissions from the site. Many cryptocurrency traders have included a trading option where these currencies are traded against international currencies as well.
Once the purchase has been completed, the currency is added to your account, which can then be used for online shopping, casinos, or for investment purposes. Mobile apps and easy to use websites give you direct access to your currency along with updated values.
Ethereum Advantages
While many of you have seen the benefit offered by regular web wallets such as PayPal, the blockchain technology has brought together a whole new meaning to secure an anonymous payment option that includes further benefits such as the Smart Contacts feature that's been added by Ethereum. However, what are the benefits from a user point of view who's simply looking for a safer and faster way to complete online payments and transactions?
Private Information Protection
Since Ethereum doesn't have an owner or a company that controls it as such, the currency provides complete anonymity for online transactions. Therefore, none of your personal details are ever shared or even visible with any transaction as only your Ethereum wallet ID is used. The added Smart Contract function will soon allow users to achieve even more secure and anonymous payments as all the required info can be programmed in with the script.
Currency Growth
Those of you who've heard about Ethereum are sure to be aware of the incredible growth these cryptocurrencies have achieved. In fact, Ethereum started out with a value of just $10 per unit, which has now increased to far over $400 and the economy is expected the currency to follow the same path as big brother Bitcoin, which has exceeded the $2,500 mark. Owning Ethereum coins could increase in value as the market increases and added function are presented by the foundation.
Mobile
With the web wallets Ethereum operates with, users have the added benefit of accessing their accounts via mobile apps for iOS and Android. These apps provide full functionality as seen on the website, enabling members to purchase Ethereum, sell, trade, and of course have the same secure and fast transactions.
Speed
Since Ethereum has enabled a Ghost protocol on their transactions, users experience much faster transaction times. In fact, compared to Bitcoin's 10 minutes transaction times, Ethereum is extremely fast as times range from 14 to 15 seconds.
Online Casinos Accepting Ethereum
Ethereum might be new on the market with only a few years behind them, but we've found the currency has become popular for transactions to online casinos due to its speedy transactions, complete security, and most importantly, is totally anonymous. The wallets serving transaction options for Ether has been added at various online casinos, giving Ether holders the opportunity to enjoy multiple casino games, including Dice games, which has been specially created for cryptocurrency casinos. These casinos have become a popular option for international casino enthusiasts, especially for USA and UK player. Below, I've listed a few of the most popular casinos to join with Ethereum.
As an added benefit, Ethereum holder has the ability to play casino games without having to create an account. Dice games have proven popular as you can login, link your Ethereum wallet, and play instantly. These games have also been known to be provably fair, allowing members to compare the seed and hash code from the casino to ensure accurate results.
Betcoin has become a popular cryptocurrency coin due to the extensive range of betting options available. Not only have they added provably fair games and a well-stocked casino, but the site also provides a poker network, live dealer games, and a professional sports betting platform. Furthermore, members have access to promotions that range from match bonuses to reload promotions, loyalty points to a VIP program with 7 levels, and much more. Becoming a member and making a deposit with the most popular Ethereum web wallets is quick, easy, secure, and cost free.
bitStarz has gone with a new way of enjoying online casino games for cryptocurrency holders by offering only provably fair games. The cryptocurrency betting site was established in 2015, allowing members to make deposits with Ethereum, Bitcoin, and many others. The game selection currency includes dice, multi-colour, roulette, and cara y cruz. With no registration required, members simply need to choose a username to enter the site. Once you're ready to make a deposit, you'll need to set a password for your account and choose from their wide platform of cryptocurrency banking options.
SmartRoulette provides one of the first smart contract betting options where members have the ability to enjoy 2 variants of roulette. The first provides a straightforward betting option that doesn't require an account and provides 100% anonymous betting, but also requires a better understanding of how smart contracts work. The other option is more familiar with regular online players as an account is created and deposits are made to purchase RTL tokens, which re used to play Roulette. Withdrawals are made to your Ethereum web wallet in Ether. As with most betting site, members are presented with promotions ranging from match bonuses to added account promotions.
CryptoGames is the perfect solution for members seeking a straightforward game opportunity that strives to offer a fast and simple gaming interface. The site provides proprietary software that has been created a team of IT professionals. Currently, members have access to 4 games, including blackjack, dice, lottery, and video slots. They have also included multiple promotions and with a professional support team ready to assist, members have access to an easy to use, professional, and secure betting platform. Once again, members have the option of creating an account or simply playing anonymously by creating a username and password to access the betting platform with Ethereum.
DuckDice is one of the latest betting sites for cryptocurrencies. The betting site delivers an impressive interface with an easy to use layout and theme. Members have access to their exclusive DuckDice game that includes the provably fair aspect for precision gaming that can be tested instantly. While many players desire additional games, DuckDice has managed to keep impressing with their platform of promotions and added benefits for members. When it comes to support, they have it all figured out with an extensive FAQ section that covers most of your questions. Furthermore, members can also contact the support team or simply log in on their form to ask other members questions and find your way around.
vDice gives us a look at what blockchain casinos of the future hold as the site doesn't actually belong to anyone. Instead, it's simply on the blockchain, offering members 100% secure and trustworthy betting options. There are many advantages and a few disadvantages to this, including no promotions at the moment. Support might also be an issue, unless you connect to the form and ask other members about the features and where you can find the things you need. Other than that, vDice might surprise with the first entry as Vitalik Buterin's hops around the screen with Schwarzenegger quotes coming at you.
BitDice tells you everything on offer in their name as only dice games are available. However, even though there are a few things that might not be perfect for some players, the site has its advantages, including a house of only 1%, which is the lowest you'll find online as most sites range from 2% to 2.5% on their dice games. Other than that, members aren't presented with any promotions at the moment, but can enjoy gaming without having to create an account.
Ethereum Alternative Options
Ethereum is rather unique with its added smart contracts functionality that let's advanced users added various applications to these payments. However, in terms of blockchain technology, a few other options have become available before Ethereum was launched, these include Bitcoin, Litecoin, and many others. Those of you who have become familiar with the cryptocurrency concept would already know about these currencies and what they entitle, but for those new to the world of blockchain technology, here's a quick breakdown of what Bitcoin and Litecoin provide.
Bitcoin
Bitcoin is the most popular cryptocurrency in the world and currency the most valuable as it was the first to present this form of technology into the market. The currency first appeared on the market in 2009 as the first blockchain currency that's decentralized. Compared to Ethereum, Bitcoin has many advantages such as being accepted at more online merchants and being more valuable, but at the same time, it doesn't include the same technology as Ethereum when it comes to Smart Contracts.
Litecoin
Litecoin is very similar to Bitcoin as it uses the same technology. However, a few upgrades have been made and the service can handle more transactions than Bitcoin. Litecoin was launched just 2 years after Bitcoin, but hasn't had the same amazing growth record when it comes to value as seen with Bitcoin. Therefore, it's become popular among investors who expect the currency to have the same growth as its older brother. Compared the Ehtereum, Litecoin also doesn't hit the mark when it comes to Smart Contracts, but does process a block in two and a half minutes, which is much faster than Bitcoin's 10 minutes, but still no match for Ethereum's 14 to 15 seconds.