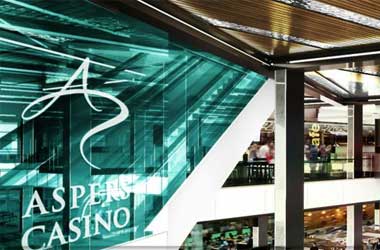 Aspers Casino has quite a reputation going for it: it happens to be the largest land-based casino in London.
Located in Stratford City's Westfield mall on the third floor, this casino is a gambling man's delight and is owned by Aspers Group Limited.
Asper casino is open to all; you do not need a membership to get in, though membership gives you exclusive privileges. You must be at least 18 years to enter the casino. A valid ID is required in the following instances:
If you look less than the required age
If you want to cash out or buy in for more than £1000
The casino is open all through the year except Christmas. It works non-stop throughout, 24 hours a day and 7 days a week, so that players are able to come in whenever they want and play their favorite casino games. The currency accepted at the casino is British Pounds Sterling (£).

Games at Asper Casino
One thing you will absolutely love about Asper casino is the range of games it has. There are different games for you to try out:
Over 150 exciting slot machines

Electronic slots
Video slots
Jackpot slots

More than 70 live games apart from poker
Standard table and card games

Roulette

Double Zero Roulette
Spread-bet Roulette
American Roulette

Blackjack
Baccarat or Punto Banco

Dice
Casino War
Superwheel
Poker

Cash games organized daily
Tournaments on offer 24×7, usually Texas Hold'em
When it comes to poker there is another thing you must know about Asper casino: it has the largest poker room in all of London. Its poker room has 300 permanent seats for players to fill up. Also, all table games are in play 24 hours a day, 7 days a week.
Another thing about Asper casino when it comes to the games: you do not have to worry if you are a beginner. The casino has two offerings for newcomers:
A series of videos in the 'How to Play' mode that give you the lowdown on how to go about playing the different games on offer at the casino, including games like blackjack and roulette. To watch these instructional videos all you have to do is visit the casino's website.
A dedicated practice area where you can try out the different games in free play mode. You can play in this area till you are confident enough to proceed to the main area of the casino for real money play.
Packages at Asper Casino
Asper casino has different packages for different occasions that players may want to celebrate and some classy joints for food and beverages. Packages currently available include:
Christmas 2016
Birthday Bash
Leaving Do
Office Party
Match Day
High Roller
The Super Casino Experience
While you can access the casino even if you are not a member, there is membership available that you can use. Membership gives you access to freebies and special offers and benefits that a regular visitor doesn't get. What benefits you get depend on the kind of membership you have. The different levels of membership include:
Aspire Xtra
Aspire Xtra: Neighbours
Aspire Gold
Aspire VIP
Dress Code at Aspers Casino
There is no official dress code at Aspers casino. This is in keeping with the casino's policy of providing players with a fun and lively atmosphere in which to play their favorite casino games. However, you do need to be dressed at least:
Smart
Stylish
Relaxed and casual
Clothing, accessories, and footwear items that are not allowed at Asper casino include:
Dirty or torn clothes
Daily work clothes
Clothing in football team colors and with extreme wording
Sleeveless shirts or vests
Swimming shorts
Cut-off jeans
Tailored shorts
Track suits
Boots with steel toe-caps
T-shirts or other clothing with adult content in their graphics or text
Google glasses
Security at Asper Casino
Asper casino is very thorough and meticulous when it comes to its security arrangements. A team of security experts is at hand 24×7, along with CCTV surveillance, to monitor activities across the casino. Items that can trigger a security search and possible eviction from premises include:
Fire arms
Knives
Chemical items
Drugs
Weapons
The following are some other aspects of the casino's security policy.
Strict no to use of mobile phones, laptops, tablets, and cameras near any of the tables where games are in progress
No photography while games are being played
Bags are allowed but may be subjected to search by the security team
The following items need to be checked into the cloakroom:

Large bags
Suitcases
Rucksacks
Winter cloaks and coats
Some More Things to Know about Asper Casino
There are a few more cool things to know about Asper casino. There are cool joints where you can relax with a drink or grab a delicious bite. At some of these places you get live entertainment as well, including music by bands and DJs. The food and drink joints here include:
Clary's Restaurant
Sky Bar
Tanzibar
Land Based Casinos by Cities