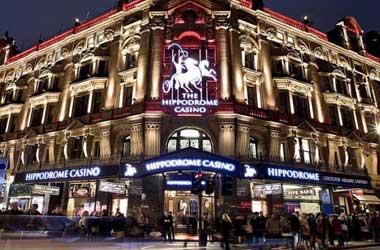 Hippodrome casino is one of the hottest spots in the UK's gambling and entertainment scene. This is the largest land-based casino in all of the United Kingdom and also its busiest. The casino is located within the renowned Hippodrome Theatre of London. The casino opened in July 2012 and is a great place to visit for a night of food, fun, entertainment, and gambling.
The casino is spread across 4 massive floors, one of which has the PokerStars LIVE deck. The fact that it is the UK's biggest entertainment hotspot is borne out by what it offers:
An award-winning restaurant
A music and cabaret room that seats 180 people
Six bars
Indoor smoking terrace
There are two entrances to Hippodrome casino. One opens out to what is considered one of the busiest streets in all of Europe. The other is the secondary entrance and it opens out to what is considered the largest 'Chinatown' community in the whole world. The casino has been awarded Casino of the Year and also is certified by GamCare. It has also been reviewed by 726 visitors on TripAdvisor. There is also an online casino as well as mobile casino on offer from Hippodrome casino.
More about Hippodrome Casino
Hippodrome casino is free to visit. You do not necessarily have to be a member to enter the casino and spend an evening there dining on fine food and beverages, enjoying world class entertainment, and of course playing your favorite casino games. You have to be over 18 years old to enter the Hippodrome casino and play the games on offer. A valid photo identification is not required except if:
You appear to be 21 years or below of age
You gamble over £1500
Hippodrome casino is open throughout the year, except on Christmas Day. There is free Wi-Fi on offer across the casino and the casino also has exciting offers for players, including a facility to get married right here! The official currency at the casino is the British Pounds Sterling (£).
Games at Hippodrome Casino
Hippodrome casino has a sizeable collection of games for you to try out. The games available include, among others:
Slot machines

Video slots
Electronic slots
Jackpot slots

Over 45 live game tables

18+ roulette tables
Blackjack (15 tables)
Poker table games
Dice (2 tables)
Punto Banco/Baccarat (5 tables)
Mini Punto (1 table)

Poker games

Texas Hold'em
Omaha Poker
Poker tournaments
Of course there is the PokerStars LIVE deck as well. While the slot machines and live table games are open to players 24×7, the poker room and its tables are open only during specific hours:
Monday to Thursday: 18:00 pm to 6:00 am
Friday: 18:00 pm to 8:00 am
Saturday: 15:00 pm to 8:00 am
Sunday: 15:00 pm to 6:00 am
If you are new to casino play and are wondering how to play the games available, all you have to do is get in touch with a dealer at any of the free table at the casino. They will tell you the basics of how to play the game you have in mind and then you can get started with real money play. If you are looking to play for real money, all you have to do is:
Go to the table hosting the game you are looking to play.
Sit down at any of the free seats available.
Place your cash on the table.
The dealer will exchange it for Cash Chips that you can use to play the game.
To cash out your winnings, take your Cash Chips to the cash desk; they will exchange it for cash for you. There is one cash desk on each floor.
Promotional Packages at Hippodrome Casino
There are quite a few promotional packages at Hippodrome casino that you can use to boost your bankroll and make your play experience more exciting. The promotional packages get updated at regular intervals. All you have to do is check them out at the casino or visit the casino's website to learn more. The promotions include:
Gift giveaways
Cash giveaways on slot machine games
Free play and more on slot machines
Bonuses on craps, dice games, baccarat, and other games
Chance to win a jackpot
Higher odds on blackjack games
Vouchers as part of the casino's loyalty scheme
Loyalty points
Discount on food and beverages
You can also get access to the Hippodrome Rewards loyalty benefits scheme. This is a multi-tier program that gives you numerous benefits. The benefits you get depend on the level you are at, and the following are the levels in this program:
Dress Code at Hippodrome Casino
There is no official dress code at Hippodrome casino. The casino accepts players and visitors in casual clothing, including jeans and shirts or T-shirts. Any dress is okay as long as it is acceptable in terms of decency and not offensive to other players and patrons at the casino.
Security at Hippodrome Casino
Security is excellent at Hippodrome casino. The entire casino is covered by CCTV surveillance and there is a team of security experts to deal with any threats. Restricted items at the casino include, among others:
Knives
Fire arms
Other lethal weapons
Drugs
Land Based Casinos by Cities