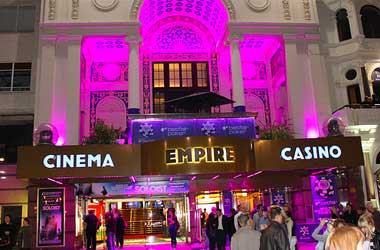 Empire Casino is one of the land-based casino gaming hotspots in London. It was launched in 2008 and is owned and operated by Caesars Entertainment group.
The casino is located in Leicester Square in the heart of London and is spread across 2 floors and a massive 55,000 square feet. This casino is the biggest and also the busiest in all of the UK and offers casino gaming with an exotic Las Vegas flair.
There is no membership required to visit Empire Casino. However, having a membership has its own benefits, the biggest of which is access to the Player Rewards loyalty program. The primary currency at this casino is the British Pound Sterling (£).
You have to be at least 18 years of age to play for money at this casino. You would be required to provide proof of identity if:
You look below the required age limit
You reach of exceed the threshold for cash buy-in or buy-out of £1500
More about Empire Casino
Empire Casino offers a lot more to players apart from casino gaming.
Restaurant: A very special restaurant called FuLuShou inside the casino brings to you an Asian fusion menu.
Bars: There are 5 exciting bars in the casino that bring to you a variety of fine wine in vastly different settings. Three of the bars are scattered around the casino near the gaming rooms, making it possible for you to sip your favorite drink as you play at the tables. The other two that stand out are:
Carlsberg Sports Bar: This bar has a fantastic atmosphere conducive to watching the best sporting action, as the name suggests.
Icon Balcony Bar: This is a bar with a fabulous balcony that overlooks Leicester Square and is the best place to be at for some amazing cocktails.
Empire Cinema: You can catch up on your favorite movies at the cool Empire Cinema.
There is a lot more on offer at Empire Casino. For as less as £25 per person you get to do a lot, including:
Learning to play games like blackjack and roulette (£29.50 per person; you also get a £5 free bet offer)
Cocktail Masterclasses (£29.50 per person)
VIP treatment (£45 per person)
Celebrate your birthday (£40 per person)
Special 2-hour poker session (£25 per person or £200 corporate package)
London Cosmopolitan experience (£35 per person)
Iconic Experience (£35 per person)
Empire Casino Opening Hours
Empire Casino is open 24 hours a day, 7 days a week. The only day it is closed is Christmas Day. The following are the opening hours for the various sections inside the casino:
Gaming: Poker, gaming, and slot machines are open 24×7 – including public holidays – except for Christmas Day.
FuLuShou Restaurant: FuLuShou restaurant is open daily from 6:00 pm. Last orders are taken daily at 1:15 am; on Saturdays the time for last orders is 2:15 am.
Carlsberg Sports Bar: Open 24 hours a day, 7 days a week.
Icon Balcony Bar: The Icon Balcony Bar is open from Monday to Friday from 5:00 pm till late night. On Saturdays and Sundays this bar opens at 6:00 pm.
Vapor Bar: Vapor Bar is open between 10:00 am and 5:00 am from Monday to Saturday. On Sundays it is open from 12:00 noon to 5:00 am.
Games at Empire Casino
Empire Casino has a good selection of games for its players.
On the main floor there are 31 gaming tables where you can play:

American Roulette
Blackjack
Punto Banco
Three Card Poker

Apart from this the casino has:

20 state-of-the-art electronic gaming machines offering video slots, Pai Gow Tiles, and other games.
20 slot machines on each of the floors
90 electronic roulette machines where you get to play games like:

Auto Roulette
Live Wheel Roulette

54 progressive jackpots to try out
Most of the electronic games at Empire Casino are from IGT. This means you get access to games with exceptional graphic quality and loads of cool features. Empire Casino also has a poker room where you can play daily poker games as well as poker tournaments. The buy-ins at the poker room vary:
The minimum buy-in for daily cash games is as low as £25.
The minimum buy-in for the tournaments goes as low as £28.
Promotions at Empire Casino
There are cool promotions at the poker room of Empire Casino. These include:
Breakfast on the house if you are playing at the casino any day at 7:30 am.
Cash game rake free pass
Double points
The casino also has Player Rewards loyalty program. The VIP level of this program is the Monogram program, which has 3 levels:
Monogram
Monogram Diamond
Monogram Elite
Members who are at any of these 3 levels get automatic access to the Dragon Lounge. This is a club within a club and offer exceptional and unique gaming experiences to its players.
Dress Code at Empire Casino
Empire Casino is quite easy on the player when it comes to the dress code. There is no official dress code at the casino. Jeans and trainers work well as long as they are clean, as does proper casual wear. Jackets are not mandatory at this casino. The idea is to feel comfortable without looking offensive to the other players here.
Land Based Casinos by Cities