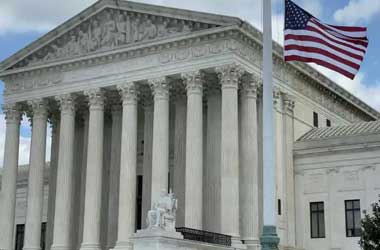 It's no secret that the United States has been working towards providing its citizens with more possibilities when it comes to online gambling. And while just a few states have stepped forth and legalised online casino gambling and poker, a lot more could be entering the online market soon. Why? Because the US Supreme Court has recently made its ruling over allowing online sports betting in the country, and it's a positive move.
A 2014 state ruling has been endorsed by the Supreme Court that permits the possibility of sports betting taking place in casinos as well as at horse racing tracks. In addition to this, a 1992 law that bans any form of sports gambling has also been cast aside by the court. This landmark move sent share prices in gambling stocks across both the United States and the United Kingdom soaring. This included popular platforms like Paddy Power and William Hill.
It could be considered as quite a controversial move amongst sports bodies, with certain ones (such as the National Basketball Association) having a strong stance against sports gambling being made legal. Furthermore, it was deemed as being somewhat of a threat towards the integrity of athletic competition by the National Collegiate Athletic Association.
Yet, despite these negative thoughts towards the legalisation of sports betting, the Supreme Court backed up its decision, with a statement coming from Justice Samuel Alito. He said that the legalisation of such does require an important policy choice, although that choice is not the court's to make. "Congress can regulate sports gambling directly…", he went on, although if it does choose not to, all states will be free to take its own action.
How Does This Affect the Industry?
As the ruling was announced, shares in many UK bookmakers surged up and above all expectations. The aforementioned Paddy Power for example, saw its share price rise by 10.5%. The same could be said for a few US company shares, such as Churchill Downs (the owner of horse racing tracks and casinos), whose price rose by 5.73%.
However, it wasn't all fun and laughter, as those casinos that already exist within the United States potentially felt the threat of new competition coming in. For example, Wynn Resorts saw its own share price fall by 2%.
Sports betting in the United States has been illegal for many years now, but the new ruling overturns the Professional and Amateur Sports Protection Act (PASPA) from 1992. As of the moment, it is only allowed within four US states – Nevada, Montana, Delaware and Oregon – who were operating such before the official law came into effect.
With the move to legalise it, the chief market analyst for markets.com, Neil Wilson spoke of William Hill being set to gain a swift reward from the ruling. It has the ability to roll out various gambling operations in a relatively short time period from within Nevada. There, it is already in operation and it has a large presence within the market. Furthermore, William Hill also has an operation within New Jersey, that is very much ready to begin accepting sports bets as soon as possible.