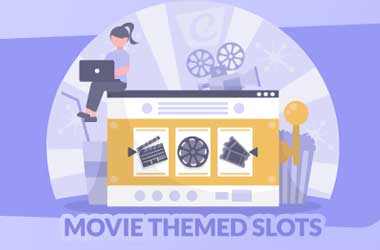 Let's be honest, who doesn't enjoy going to the cinema and seeing the latest releases? Films are able to transport us into other worlds. And whether they be a world of action, a world of romance, a world of horror – they help to take us away from our daily lives. Now, masses of films grace cinema screens around the world every year. The same can also be said about slot games though. You see, there have been multiple slot releases that incorporate a film into their gameplay. So, if you enjoy spinning the reels of slots and visiting the movies, perhaps this collection of slots that centre on films will be of interest.
We've brought together the very best slot offerings in this collection too. And they each come with a different overall genre and theme, just as standard films do. You'll be able to find them at one of the various different online casinos that we recommend. So, without further ado, let's find out which slot games we think are the best at representing the movies!
A Selection of the Best
For this selection of games, we've taken a look at the overall game design, the inclusive special features and the betting options to ensure that we're informing you of the best. Therefore, you can guarantee that you'll always be accessing the ultimate options in this category.
Aliens by Netent. How can anyone not look back on sci-fi horror films and not think of this group of Sigourney Weaver classics? And Netent took the overall theme of the movies and brought them to life in this slot offering. The game sees you advance through levels as you collect wins.
And you're also able to trigger a freespins round that takes you on a mission as an army soldier to destroy the aliens and their queen's hive. It's all meticulously brought together, with visually stunning graphics and entertaining gameplay.
The Dark Knight Rises by Microgaming. This 2012 Batman installation was just as intriguingly dark as its predecessor, and fortunately Microgaming knew how to bring that out in this slot offering.
Icons upon its reels include characters from the movie, with animations bringing them to life perfectly. Furthermore, at random moments during the game, Batman and his nemesis Bane will appear on screen and fight. Each character will accumulate freespins and multipliers with every hit too. Then, when three scatter symbols show up, you'll be able to choose a character and play the freespins!
Creature from the Black Lagoon by Netent. Heading back to 1954 with this slot, you'll get to take a thoroughly appealing look at the 3D monster horror film.
It contains 20 different win lines for you to bet on and incorporates multiple different wild icons, including both spreading wilds and sticky wilds. There's also a freespins round for you to trigger, where the Creature also makes his appearance.
Superman: The Movie by Playtech. If you've never seen Christopher Reeve in his role as Superman, then you're missing out. Fortunately, you can also see him in this Playtech offering as well. It also contains characters from the films, and the Superman logo works as a wild icon.
Additionally, you have the possibility of triggering two different bonus features. These are the Save the Day Freespins and the Crystal Bonus. Another great thing about this slot is that it is a part of the DC Jackpot network from Playtech. Therefore, you have the chance to trigger and win a progressive jackpot amount during gameplay!
Monty Python's Life of Brian by Ash Gaming. Comedy is the aim of the game in this slot, and what better comedy movie is there than this one? Ash Gaming has jam-packed the title with different bonus features, including a Stoning Bonus, Wild Spaceship Re-Spins, What's So Funny Bonus and Freespins.
It's a veritable feast for avid gamers who enjoy triggering different feature rounds. Additionally, it contains all of the characters from the film, bringing the humour right to your computer screen!
Enjoying the Cinema
We have to admit that we love going to the cinema. But we equally enjoy playing this range of slot games that focus themselves on the movie industry. They're entertaining and contain just as much attention to detail as the cinema offerings. So, if you want to experience your favourite film in slot form, the chances are that it's available. Try out the five that we've mentioned and you'll be in for a real treat!