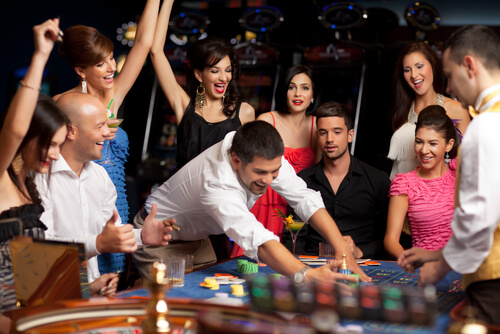 If you thought that the online and mobile casino industry has wiped out the land-based casino industry, you could not be more mistaken! The land-based casino continues to thrive, reaching new shores and bringing the fun and excitement that a casino offers to people so they can experience it for real, first hand. The beauty and allure of the land-based casino is such that nothing can make it stop.
The first thing about land-based casinos is the environment it provides. There is noise, fun, laughter, and some serious gambling action. If you are a high roller you can head straight to the high roller tables, and there are also private gaming tables for the elite and the masters. That is where the real action, in terms of high value gambling and high stakes, unfolds. And if you are just a regular guy out to have some fun and spend and hopefully win some money, you can head to any of the tables at the main gaming area of the casino.
The second thing that grabs people's attention at a land-based casino is the action as it unfolds. There are no machine or computer-generated numbers deciding your fate regardless of the game you are playing –blackjack, roulette, or any other game. There is an actual person at the table dealing the cards or spinning the roulette wheel. You can talk to him or her as you place your wagers or even during the course of a game or hand. There are loads of people around the tables too. One of the most fun places you can be at is the craps table or the scene of action near the roulette wheel.
Sure; there are not too much by way of bonuses, unlike in an online or mobile casino. But you do get complimentary drinks on the house, and there is free cash – though nominal amounts – on offer at some of the land-based casinos, especially the big ones in London. There is a whole lot of stuff you get when you visit a land-based casino.
Even when it comes to games you get all the games that you usually get at an online casino. Of course, not every casino offers all the games; that is one area where you may have a little hiccup. For instance some of the casinos in London and across the UK do not offer slots or poker games. But then there are those that offer both; in fact some have dedicated poker rooms. That is where you can have fun; to play online poker sometimes you need to visit a separate site, an online poker room.
Service also is top-notch. You are not limited to just a pizza, or home food, or any take-away snacks. There are fantastic restaurants and bars offering the best in food and drink when you visit any of the top land-based casinos. That is what makes for a fascinating overall casino gaming experience – the excitement of playing, the lure of winning, the people, and the food.
And the fact that the land-based casino is thriving is borne out by a simple statistic: there are more than 148 land-based casinos across the UK today. Many of these are open to all, but there are a few that are very elitist and require membership. Membership is also offered very selectively at some of these casinos. So if you thought the land-based casino industry was in its death-throes, think again! And visit one while you are at it to experience the excitement yourself!