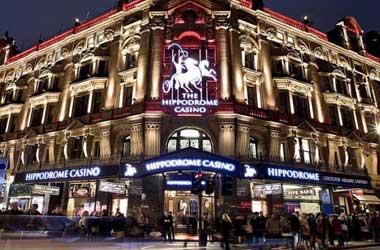 If you are looking for a land-based casino to play at when you are in London, there is one place that comes to mind straight away: the Hippodrome casino. Considered one of the best land-based casinos in all of the United Kingdom, this is one casino that guarantees you the time of your life when you are there. The casino is located in one of the busiest areas of London. Apart from the main entrance there is another way to get in, from London's Chinatown.
For starters, the location itself is exotic: it is located inside what was earlier the renowned Hippodrome Theatre in London. The casino has been around for over 4 years now, having opened its doors to the public in 2012. There is gambling of course, and fun, and more important, excellent food and a great wine list that makes this night out one worth remembering for a long time to come.
This casino has everything that you could ask for: a restaurant that is actually an award-winning restaurant, not one but six bars, an auditorium of sorts for music and cabaret that is big enough to seat 150 people, and also if you have a love for tobacco, an indoor smoking terrace.
The history behind the place itself makes for fascinating reading: opened way back in 1900 on 15th January and has had performers of legendary status. The first show here featured a young Charlie Chaplin in the show Giddy Ostend. Other performers over the years have included the great Harry Houdini, Judy Garland, Shirley Bassey, Tom Jones, Sammy Davis Jr., and also Stevie Wonder.
Coming to the casino today, there are a range of exciting games to choose from, including an array of slot machines – video slots, electronic slots, and also jackpot slots, live table games like blackjack, baccarat, roulette, poker, and also dice games, and a poker room that hosts live poker games. And if all that is not enough, here is something that will rev the excitement up to stratospheric levels: the PokerStars Live poker deck.
There are loads of promotional giveaways to be had as well, including gifts, cash, free play on slots, bonuses, vouchers, and also discounted food and beverages. When you are there you get access to the Hippodrome Rewards, a 3-tiered loyalty program that gives you numerous benefits.
All of this is great, and then there is more. You get access to the Lola's Underground Casino when you are here. This is the first casino to have live entertainment right at the heart of where all the gaming action unfolds. At the center is a cage with Lola's dancing grounds and around this cage are arranged some of the live gaming tables.
More than anything else, you will especially love it if you are not too much into suits and tuxedos, because the Hippodrome casino allows smart casual wear like jeans and T-shirts. It is all of this that makes the Hippodrome casino, in my opinion, the place to be at if you are looking for an evening of fun, gambling, and entertainment.