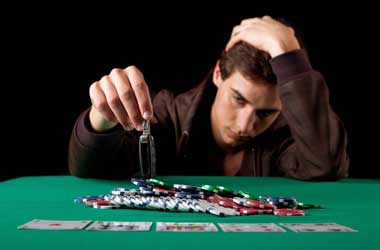 Gambling addiction has been the focus and subject of many stories recently, especially with companies like GambleAware trying to promote safe gaming. However, not only does it affect the UK's residents, but others as well. An illegal immigrant in the UK is set to be deported back to Pakistan. This will take place after he serves a three-year sentence in jail.
The Pakistani man, Shabaaz Ahmed began participating in a credit card fraud ring in order to try and combat his £1.5 million losses at the Grosvenor Casino. This all took place after his application for asylum in the UK was rejected. Ahmed, 41, then went on to receives supplies of fraudulent credit cards from Nigerian scammers. They then ordered him to deposit funds from them into several accounts controlled by the gang. Alternatively, he would be told to buy certain goods, gold and even items like gift vouchers.
Ahmed told of how he utilised one of the cards to buy a large number of cigarettes. For this, he was paid £200 by the scammers for completing his part in the fraudulent activities. It was later discovered that the same card had a total of £9,000 spent on it. That amount was not only the doing of Mr. Ahmed, though.
A Repeat Offender Whose Addiction Got Him in Deep Water
An arrest of Mr. Ahmed first took place in June of 2016, but just two days afterwards, he spent a huge sum of £34,000 with fraudulent cards. The Southwark Crown Court was told that the offender was receiving around five of these cards every week. They were then put to use through a collection of separate individuals. Because Ahmed has no immigration status within the United Kingdom, he has already been given a deportation notice. This will send him back to Pakistan once his jail sentence in the UK is complete.
Working for the prosecution, Jeremy Rosenberg went on to inform the court that Mr. Ahmed suffers from a clear gambling addiction. He also spoke of the fact that they were aware of the amount he had lost, and that it's possible that most, potentially all, of Ahmed's profits went back into the online casino itself.
Both Ahmed, as well as a second man by the name of Manikkam Sivakumaran, went on to admit the charges of conspiracy to defraud. The judge, Nicholas Loraine-Smith, then went on to state that Ahmed has "no right to be in this country", due to the fact that his application for asylum was refused "a long time ago". He then pointedly said that Ahmed chose to remain in the UK and became addicted to both gambling and alcohol. It was then made clear to the court that Ahmed turned to fraud to pay off his gambling debts.
On the other hand, Mr. Sivakumaran was given a 20-day rehab activity requirement. Loraine-Smith said that he has a positive character, but drink and potential greed let him to be tempted into the fraud ring. Sivakumaran will also complete 100 hours of unpaid work, which should be done within the next 12 months.