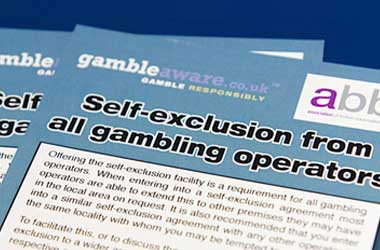 There has been a lot of talk recently about the UK Government introducing measures to combat problem gambling. It's a big problem within the country, which is why one of the latest methods of fighting this comes in the form of the 'self-exclusion' option. It was recently reported that more people are taking up this option in order to stop themselves gambling at online platforms. But what about the land-based casinos? Is the scheme working well for the problem gamblers of the United Kingdom?
Well, it could be said that there is a big negative next to this question. A recent study by the BBC 5 Live Investigates team has found major flaws in the scheme's design. This study saw an undercover reporter pose as a problem gambler who was known to have such issues. The idea with him having self-excluded from such gaming methods, is that he should have been ejected from land-based bookmakers.
However, in 19 out of the 21 betting shops that he went in to, he was able to use the fixed odds betting terminals. The UK Gambling Commission is now set to reinvestigate the issue in a more in-depth manner.
The Scheme's Failings
The self-exclusion program that the Gambling Commission has introduced is in place to help problem gamblers. It supposedly does this by circulating details and a photograph of such gamblers around betting shops in the area where the person works or lives. Theoretically, this serves to ensure that the gamer does not receive service in those establishments.
The undercover investigation took place in the town of Grimsby. This Lincolnshire location is known to contain one of the largest collections of bookmaker establishments within the UK. However, as the reporter made his way from bookmaker to bookmaker, it didn't take long to realise that there are some fatal flaws in the scheme. It was only when he reached the 17th location that he was recognised and asked to leave. One other point that the research conducted by the 5 Live Team found, is that not only was the reporter not asked to leave, but he was also offered tea and coffee to enhance his gaming experience.
The reporter went on to ask the question of if a simple piece of paper containing someone's name and image is enough to stop problem gambling. It led the Association of British Bookmakers (ABB) to admit that the self-exclusion program that is currently in place is flawed. However, the company said that it is continually trying to develop improvements for future systems.
That being said, the ABB also mentioned that the research took place in "artificial circumstances". The company then referenced an independent review relating to the self-exclusion program. This found that 83% of participants were satisfied that the scheme had been satisfactorily effective in reducing or ending their gambling problems.