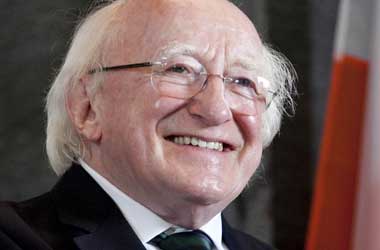 RTÉ Radio 1's Sunday Sport conducted an interview with Irish President Michael Higgins on Sunday as he attended the All-Ireland Hurling Championship at Croke Park. It became quite apparent that President Higgins has plenty of concerns when it comes to gambling and he would like to see new legislation that would protect vulnerable gamblers.
One of the ways that the President feels problem gambling should b addressed is by banning all gambling platforms from advertising in sports. It's uncertain if Higgins was specifically referring to the case of Galway hurler Davy Glennon who was lucky to avoid jail time after he stole €70,000 to fund his gambling activities. Either way, the president is well aware of the fact that incidents like that do severe damage to individuals and tarnish the reputation of sports in general.
Higgins made mention of a recent trip that he took to a treatment centre where he pointed out the amount of gambling-related advertising that takes place during sports broadcasts. The allowance of gambling ads during prime time sporting events plays a major role in influencing both the younger generation and those battling problem gambling addictions. The United Kingdom has witnessed a major increase in problem gambling and there is little doubt that Ireland is also not too far away from witnessing a major surge.
The President believes that one of the key ways to address these concerns are through better education programs to make people fully understand how dangerous gambling can be although he readily admits that education is just a part of the equation.
Gambling Control Bill Still Delayed
It has been 5 years since Ireland's Department of Justice began drafting the new Gambling Control Bill in which a gambling authority is expected to be established. There is also a Private Member's Bill on gambling on the table but neither is expected to be finalized any time soon. It will be interesting to see if President Higgins' statements have any impact in speeding things up.
President Higgins' statements drew a lot of attention because the President of Ireland does not customarily intervene in matters relating to such things as gambling policies. Some might consider the timing of these statements as odd with an election slated for this November. Nevertheless, it is obvious that President Higgins feels strongly about the issue and isn't afraid to voice his opinion.