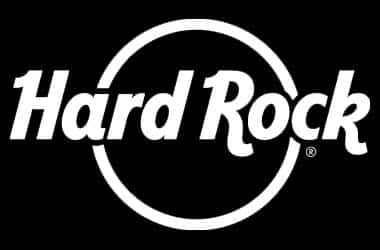 The Hard Rock brand is known around the world for its range of cafes and hotels, with over 180 of the former and 24 of the latter. It also provides avid gamers with land-based casino sites in eleven different locations. However, it was announced a few days ago that the company is set to launch its first online casino platform to cater to the market of New Jersey. And while this has been big enough news within itself, Hard Rock also went on to announce that it will partner up with Gaming Innovation Group (GiG) for the launch of it!
The two companies are set to build a powerful platform, creating a fun location for players to join and experience a flawless design. Naturally, the Hard Rock brand has a very strong and bold logo and interior design of its own, so the online platform is expected to bring forth that same rock 'n' roll imagery. Further to this, Hard Rock is also set to re-open what was once known as the Trump Taj Mahal, also located in New Jersey. This will be one of the brand's land-based hotel and casino locations.
The Hard Rock casinos were described as "one of the most popular and best rated" by the newly appointed senior vice president of the online gaming section of the company, Kresimir Spajic. He went on to say that Hard Rock is confident that by uniting with GiG, that it can become one of the global leaders in the international online gaming sector.
What About GiG?
The Gaming Innovation Group first began operations in 2008, basing themselves out of Malta. Since that time, the company has expanded quite significantly, offering about nine different platforms, including Rizk Casino, SuperLenny and Betspin. Furthermore, it employs more then 700 people who are located within five separate countries around the world.
The CEO of the company, Robin Reed spoke recently about the unison with Hard Rock for the launch of its online casino. He said that GiG is "excited" to participate in Hard Rock's innovative and inspiring plans and is happy to help them become a global leader. He went on to say that the online casino of the brand will be seen as somewhat of a "stand-out" offering, bringing all of the flavours of the Hard Rock brand to life.
Additionally, GiG also recently announced that it will move into another regulated market, making it the company's third. The application process to allow it to receive a gambling licence in New Jersey has already been initiated too.
As far as the online platform that GiG will create alongside Hard Rock International, it is thought that this will bring forth games from a number of large developers, such as Microgaming, Play'n Go, Netent and Yggdrasil. A huge range of titles are expected to be on offer, from worlds like slot games, table games and more. Time will tell whether this online casino will have as much of a draw factor as the land-based establishments. It is expected to be a highlight of this year when it comes to new launches.