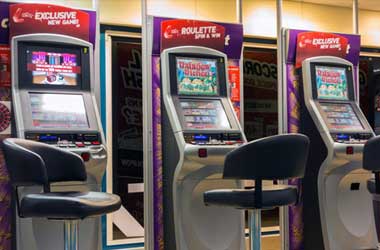 The UK gambling sector has been put through somewhat of an overhaul in recent months, and for many of those months now, fixed odds betting terminals (FOBTs) have been under discussion. Such machines have been labelled by some as being a prime cause for concern when it comes to gambling addiction. Calls for the government to reduce the maximum bets that a player can place on them have been quite rife for some time now.
And it appears as though the government has been listening, as in a new set of rules revealed recently, these FOBTs are to have their maximum stake possibilities reduced to just £2. It's a huge drop, considering that most of these machines have been operating with maximum wager possibilities of £100 per round. Alas, Matt Hancock, who works as the Culture Secretary, has denounced the machines as being something that needs tackling, almost condemning them as a "social blight".
The last that was heard about these machines was back in March, when we reported on the recommendations of the UK Gambling Commission to only suggest reducing maximum bets to £30 or less. This was met with criticism by many anti-gambling supporters and non-governmental organisations who strive to help problem gamblers. At the same time, several bookmakers noted that any drastic cuts could lead to many gambling outlets closing down.
The FOBTs are responsible for bringing in roughly £1.8 billion each year for the country's betting industry – at least, according to the Gambling Commission. At the same time, this revenue allows for a £400 million portion to go to the government itself. However, in order to combat any kind of negative impact on finances for the public sector, Remote Gaming Duty will increase.
What Happens Next?
There has already been a certain amount of backlash relating to this governmental decision. William Hill has stated that it generates more than half of its own revenue from FOBTs in retail stores. The operator almost instantly claimed that the £2 maximum bet amount is "unprecedented" before going on to state that several hundreds of its land-based shops could end up losing out. Figuratively speaking, William Hill also claimed that its annual operating profit could decline by roughly £70 million to £100 million.
However, Mr Hancock backed up the government's decision by saying that there are few occasions in politics to make decisions that will help people. Therefore, the reduction of the maximum stake on these machines will have the ability to help many vulnerable people. A great mass of these lose thousands by betting on FOBTs every day.
Alas, other gambling operators leaped to join the backlash, with the managing director of Betfred, Mark Stebbings claiming that the UK government has "played politics" when it comes to people's jobs and livelihood. He also said that the move was not based on any definite evidence and was instead, purely political.