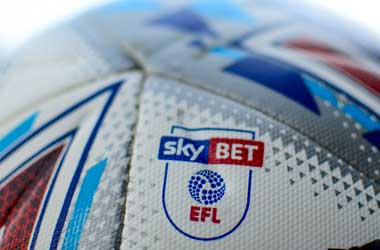 The English Football League is always going to be a sport that people love. There are so many thrills and plenty of excitement that a match can hold. And those thrills extend to the gambling world too. Obviously, sports betting is a big thing, with platforms seeing masses of people wagering on different events. And as we all know; Sky Bet works as one of the main sponsors of the English Football League at the moment.
That sponsorship is destined to continue, as the gaming and bookmaker platform has announced that it will be extending this deal. This will go onwards to summer 2024. Therefore, an extra five years has been added on top of the setup between the two companies. And as a part of this deal, Sky Bet said that it is to pay 20% more annually. It's a vast leap, as the previous arrangement was said to be about £6 million per year.
EFL
Sponsorship Deal
Sky Bet is known for having multiple gaming sites, including a casino and poker site. However, the company began sponsoring the Football League back in 2013. This deal does not incorporate the Premier League – the top tier of football in the United Kingdom. However, it does cover the next three levels. These are the Championship, League One and League Two. This then sees the Sky Bet logo on display on the shirt sleeve of each team that participates in these three divisions.
However, it also has perks for gamblers as well. You see, Sky Bet gets "Bet and Watch" rights from this, relating to certain matches. Therefore, people who place wagers on individual games have the ability to stream the match via their desktop or mobile device.
Furthermore, this new sponsorship deal also includes a promotional campaign about safe gambling. Richard Flint, Sky Bet CEO said of this part of the deal, "From the playoffs and including next season every shirt will have a responsible gambling message on the shirt sleeve and we're tying that into a responsible gambling campaign starting today". This all works in favour of the recent concerns relating to the amount of gambling ads that run during sports events. Now, instead of placing bans or restrictions on these ads, the gambling campaign looks set to increase awareness.
Sky Continues to Grow
Sky is one of the biggest telecommunications and media companies within the United Kingdom. And apart from this, the company provides gamers and bettors with locations to satisfy their gaming needs. This ranges from the sports betting platform of Sky Bet, through to the Sky Casino and Sky Bingo, to name but a couple.
With the continuation of the football sponsorship deal, the company continues to expand its own scope. And this can only mean great things for both the gambling community and sports enthusiasts. Speaking of the sports betting platform, it already provides a huge range of different events for you to bet on. As well as this, there are possibilities for live betting. Meanwhile, the brand offers up options for wagering on options like Fantasy Football and Fantasy Six-a-Side.