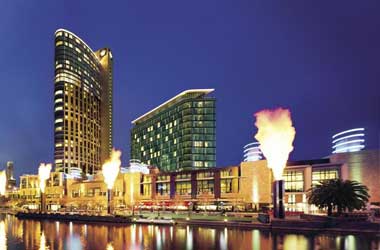 It's a big deal when the largest land-based casino in a country receives a fine – but that's exactly what has happened with the Crown Casino in Australia. And with a huge amount of A$300,000 (£160,000) to pay, the casino must have done something exceptionally wrong. Well, it has. Crown Casino has been tampering with the slot machine games that it provides, limiting players' betting options on such. The penalty that the casino now has to pay is said to be the largest ever occurring within the country, according to advocates who are against gambling.
The regulatory body of Australia discovered that certain buttons on slot machine games had been covered up, disabling players from utilising them. This isn't the first time that Crown Casino has had its reputation damaged by negative allegations either.
Information from the Victorian Commission for Gambling and Liquor Regulation (VCGLR) stated that the casino had been found guilty of using what are known as "blanking plates" on a total of 17 of its slot machines, taking place last year during a certain trial period. Therefore, gamblers opting to play the slots were only left with the possibility of making minimum and maximum bet options. The regulatory body confirmed that it is the largest fine that it has ever handed out to Crown Casino, thereby reflecting how serious the matter is.
It's also interesting to point out that gamblers within Australia end up losing more funds per head than all other nations in the world.
Crown Fires Back
Crown Casino did deny all allegations that it had purposely altered any of its slot machines. However, after a three-week time period, it reversed its statement, saying that it did purposely alter them. Alas, this wasn't done as a deliberate attempt to breach laws, so the regulatory body said. Furthermore, the move hadn't affected the ratio of returns that gamblers received. That being said, the VCGLR stated that the penalty would hopefully turn other casino operators away from tampering with machines without prior approval.
It was last year that statements were presented to parliament by MP Andrew Wilkie. These accused the casino of altering its machines and breaching player regulations. Following the ruling and fine on Friday, he said that the actions of Crown Casino were "a very serious offence" and that the establishment should therefore "stand condemned". He continued on that he doesn't believe Crown Casino's explanation of the machine tampering as solely being a trial period, citing various sources of evidence stating that the practise has been in effect for a longer time and more widespread.
Even though the casino has had quite a bit of negativity directed towards it in recent times, it did win a court case this past February. This case saw a former gambling addict claim that she was misled by the casino machines' "deceptive design features".