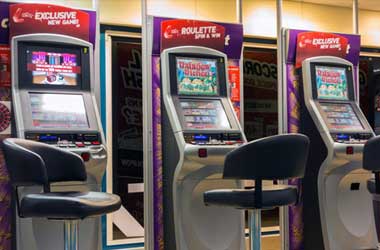 Fixed Odds Betting Terminals (FOBTs) have been at the centre of much disdain in recent months. For both operators of such terminals and for the United Kingdom Gambling Commission. Talks have been in place recently to reduce the maximum possible bet on these machines. As of the moment, some of them allow maximum wagers of £100 every 20 seconds to be placed. However, due to the issues surrounding problem gambling in the UK, many campaigners look to have this reduced to at least £2.
A consultation that the Department for Digital, Culture, Media and Sport (DCMS) set up surrounding this issue is set to come to a close on Tuesday. This consultation has been, and will continue to examine what kind of impact the reduction of maximum bets to between £50 and £2 will be. Of course, some operators have clearly said that a maximum wager of £2 will impact them significantly. Many have even said that it has the potential to see shops close due to the lower revenue of such.
However, campaigners who want to reduce the maximum limit are pushing for bold moves on the topic. Only in 2016, over 233,000 users of these terminals reportedly each lost over £1,000 in a single gaming session. Such terminals are found within land-based casinos and betting shops across the UK.
Review Takes a Lesser Tone?
While this review of FOBTs came about under former culture secretary Karen Bradley, she has since become the secretary for Northern Ireland. Now, her position has been filled by Matt Hancock, who has actually previously voted against tightening regulations on the gambling industry. Upon his promotion to this position, various anti-FOBT campaigners did fear that a less harsh tone would be taken. Hancock also used to race at Newmarket racecourse as one of the amateur jockeys.
However, it is now said that he has been persuaded to move in favour of a £2 limit on FOBTs, thanks to what was called an "overwhelming" response at the consultation. That being said, no final decision on the matter has been reached for the time being.
Despite this, many ministers are happy with the direction that things seem to be going. For example, Carolyn Harris, who is the Swansea East Labour MP, stated that she welcomed the signs from the government on the subject. Harris has been a lengthy campaigner for stricter limits to be in place. She said that the reduction of maximum stakes on FOBTs to £2 would first of all be a win for "common sense". However, she also made note of it being a victory for people who suffered and still are suffering with the "toxic machines".
In a cross-party letter that has been drafted by Harris to Theresa May and signed by her and multiple other MPs, she references the governments commitment to social justice. The letter goes on to state that the betting terminals are in themselves creating a form of social injustice. The letter is also expected to be copied to Hancock, as well as chancellor, Philip Hammond.