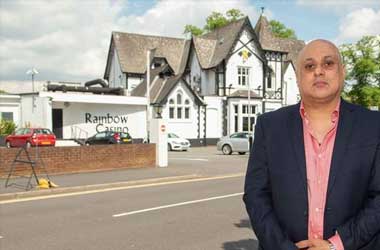 Gambling man Mr. Balvinder Sambhi, claims that a casino in Birmingham is just one of the latest establishments to ban him from playing there. It comes following him winning a total of over £50,000 by playing roulette and doing so with his own thought-up "no lose" betting system. Mr Sambhi says that he has spent years making sure to perfect the system, which is what led to the Rainbow Casino in Edgbaston stopping him from being able to enter and play there.
Prior to this, Mr Sambhi stated that he was a regular gamer at the Hagley Road casino, although this is another establishment that chose to bar him. Alas, he wasn't given any reason as to why this decision was brought about.
Speaking of his banning from both casinos, Mr Sambhi said that he's never lost with the system he has perfected. Casinos don't like this. "They don't want winners in their premises…", he stated. Sambhi claims to have taken about £50,000 from the Rainbow Casino within the last six months, which is why the venue has now banned him. This is not something that Rainbow Casino has confirmed either. Instead, the customer was simply told that it was a management decision.
A Book on the Horizon
Mr Sambhi has stated that he has purposely lost on occasions, just to ensure that the casinos don't see him as a constant winner. However, it hasn't been enough of a return for the establishments, leading to his banning from them.
Now, he has completed a book that talks of the betting system, which he has entitled Breaking the Roulette Wheel. While the book does not disclose too many of the secrets behind the systems, Sambhi has said that experts claim that winning at roulette is simply a matter of luck. However, with the system that he has developed – something which is based on simple mathematics – he is able to win every time that he plays. Sambhi says that his biggest win in a day stands at a little more than £4,000 in total.
Furthermore, in 2009, Mr Sambhi was banned from the Grosvenor Casino on Broad Street, Birmingham, and at this time, a spokesperson for the business declined to make any statement. A bit of a downfall considering Grosvenor has over 30 land-based casinos on UK shores. Sambhi states that if the casinos believed that he was cheating – or even money laundering – then the police would be involved. However, because his system is not cheating and instead is about mathematical genius, there is little more that the establishments can do with regard to him.
It was back in 2006 that he began playing roulette with this system and he claims to have made a significant amount of money over these years by doing so. Furthermore, it's not just in the United Kingdom that he has utilised it. He's taken his betting system to other casino locations, such as Frankfurt and Amsterdam, winning big on the high-roller tables.