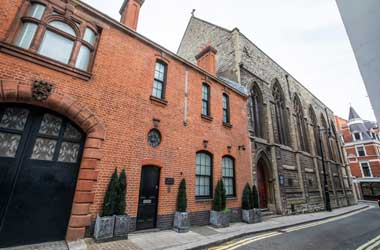 One of Mayfair's historic townhouses has had plans submitted for it to be turned into a 24-hour casino. Yet, because of its location, the proposed plans have suffered from a backlash of churchgoers.
Property firm Fenton Whelan submitted their plans to convert the Grade II listed block on Brick Street into a gambling venue, which will have an exclusive members-only setup. The plans suggest that the casino will be able to cater to around 200 people and would also incorporate a restaurant and roof terrace. Yet, Westminster council has received its fair share of complaints from people attending the Christ Church in Mayfair.
Worshippers suggest that noise coming from the casino's terrace will infringe on their "right to worship". Another churchgoer against the 24-hour gambling site also suggested that there is also the possibility of gamblers and worshippers getting into "altercations".
Noise coming from the casino would "interfere with our ability to hear the sermon properly", said one congregant. This, they said, would directly affect their ability to properly "worship freely". A letter that was submitted by the church itself states that because the building could also feature a multi-level bar and possibly a nightclub complex as well, a significant rise in "noise, disruption and loss of quiet enjoyment" would take place.
Fenton Wheelan Responds
Taking on board the criticism of the planned casino, Fenton Whelan has said that it will not allow gamblers to use the terrace between the hours of 10am and noon on Sundays. However, those who are against the casino have requested for this to be extended, with the hours of between 9am and 1pm being suggested.
Additionally, the developer said that the casino isn't about to start accepting "disruptive members" to its establishment. Instead, in a letter to Westminster, it said that casinos for private members are not "heavy-drinking" establishments and do not bring punters in who cause rowdy behaviour.
Originally, the property – which has a size of 12,800 square foot – operated as stables and accommodation of those working at the Londonderry House mansion, which has since been demolished. It was in 1997 that it was converted into a residential-use building. Constructed across three floors, it features five bedrooms, a gym, a home cinema and a pool in the basement. The property also changed hands in 2002, selling for £12 million to Beltway Holdings.
Speaking of the proposal to change it into a casino though, the Reverend Matt Fuller of Christ Church said that they have had communication with Fenton Whelan. Discussions, he said, have taken place, regarding the needs of the Mayfair community.
Now, to ensure that the building is only used as a casino, planning officers have recommended that it is approved only with certain controls in place. The application by the developer will be decided on Tuesday by the planning committee.