If you've enjoyed the intriguing online slots of a casino, or the table games like blackjack and baccarat for example, then perhaps video poker will also hold some appeal for you, too. Yet, if you haven't ever accessed such games, then perhaps you'll want a few tips on how to play them and what to expect from them.
Video poker is one of those games that may often be pushed aside for one reason or another. Believe us though, when we tell you that this game can be very entertaining, and it also has the ability to provide you with intriguing pay-outs. Let's take a closer look at some tips for video poker beginners.
What Is Video Poker?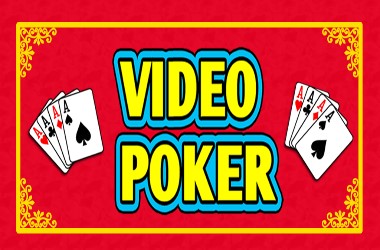 Video poker is basically like playing poker, but not at a table. Usually, video poker games base themselves around the idea of the Five-Card Draw version, which means that you receive five cards at random. You then get the chance to hold anywhere between all five of the cards or none of them at all. Additionally, you can replace discarded cards with new random ones to try and improve or adjust the hand that you have.
Now, if you know all about poker hands, then the rules behind playing video poker will come to you quite easily. Basically, you need to try and form the highest possible poker hand from the cards that are dealt. The highest is, of course, a Royal Flush made from the 10, J, Q, K and A of the same suit. Other hands include a Straight Flush, Four-of-a-Kind and Full House, amongst others. If you're not already aware of poker hands, then it would be ideal to brush up at least your basic knowledge of them.
For each of the different poker hands that you can form, a different pay-out from the machine should be displayed on its pay table. So, if you can see that you're able to form one of the hands, you know what kind of pay-out it will provide you with.
Playing the Game
There really isn't much more to playing video poker than placing your bet and requesting for the cards to be dealt out. It's quite a simple affair.
Bets can usually be easily changed by using relevant buttons at the bottom of the game screen, while the "Deal" button sends out a row of cards. You press the "Hold" button if you wish to keep any of them and then press the "Deal" button again to remove the discarded ones and deal new ones into their place. If any poker hand forms, you receive the relevant pay-out. That's pretty simple, right?
So, why do you need tips for something that's so simple? Well, because like all gambling games, you need to know certain basic things and retain these tips for future play.
Tips for Playing Video Poker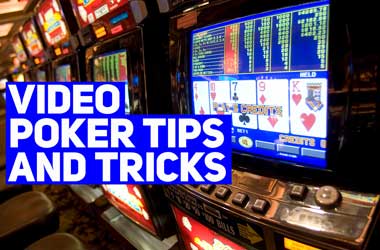 This first tip may come as quite an odd one to throw out there, but with video poker, it's usually always recommended to play the maximum number of coins per round. Why? Because video poker games will frequently provide a bonus for the highest hand whenever you wager the maximum number of coins.
This may seem quite extreme, especially for someone who is a new player. However, the great thing about video poker machines is that they don't tend to have huge maximum bet limits. Therefore, you can manage your bankroll with limited bets and try to claim bigger rewards in the process.
Make sure that you check what kind of video poker game it is that you're playing. If you access one called "Jacks or Better" for example, this means that winning hands like Two-of-a-Kind can only be formed from cards that are of the jack or higher.
If, on the other hand, you select one like "Aces & Faces", then you'll be able to form wins such as Four Aces. This naturally comes from the appearance of four ace cards showing up on a hand. Just remember that all cards are dealt at random.
Watch closely for games that feature something known as a double-up feature. This inbuilt perk can be exceptionally appealing for video poker players, because they allow you to benefit from making higher bets without a house edge being involved. There are several video poker titles available that feature the double-up perk.
Finally, it's key to note that being dealt a Royal Flush in one of these games is not dependent on anything. It doesn't matter what kind of bet you place, which video poker game you play or how often you have hands dealt. The Royal Flush hand, like any other hand in these games, is completely random. There is an equal probability of this showing up as any other kind of hand.
Appealing Video Poker Games
A number of different video poker games can be found online, with varying titles and slightly different types of winning hands included in them. For a beginner, then it's generally recommended to start with the Jacks or Better type of game. Others that may appeal to newcomers include Bonus Poker Deluxe Jacks or Better and Double Bonus Jacks or Better.
If you've had a bit of exposure to video poker before, then you may want to go for the Deuces Wild variation of the game. Sometimes, you may find Deuces Wild games that also feature an inbuilt progressive jackpot to try and win, too.
The final appealing version of video poker is Joker Wild. This is played with a pack of 52 cards, with the 53rd card being present as the joker. Taking its function from the title of the game, the joker will act as a wild card, substituting in wins to form the highest possible outcome. Yet, you'll still find in this version of video poker, that the highest win comes from the Royal Flush appearing – without the wild card.