You don't need to be a genius to see how popular online gambling is, or even just gambling in general. And every year, certain trends seem to erupt forward that set the gambling world ablaze.
Be that a new generation of games, an innovative method of playing, a new form of gambling experience or any number of other things. One certainty is that the industry is always evolving and introducing unique features.
So, it is with this in mind that we decided to let you in on a few trends that are expected to take hold in 2019. Let's see what the new year holds for the gambling world.
Cryptocurrency Payments Set to Dominate
It's no secret that cryptocurrencies are spreading through the online world and rapidly gaining in popularity. The gambling world is already no exception to this, with multiple online platforms accepting deposits, withdrawals and gameplay in Bitcoin and other digital currencies. In the coming years, it's set to dominate the landscape of online gambling, thanks to the ease of use, security and anonymity of transactions.
In 2019, there could be a boost to the cryptocurrency world – at least, as far as its link with the gambling sector is concerned. While traditional payment methods will likely remain a possibility at the biggest number of online gambling sites, cryptocurrencies are expected to become the prime and preferred option for many users. Next year could just be the start of kicking this trend into overdrive.
Land-Based Casinos Trending Downwards
As much as the online gambling scene seems to be going through an upwards trend, land-based casinos aren't faring quite as well as their internet counterparts. Naturally, online casinos are more convenient and, if the cryptocurrency payment options proceed in the way that is expected above, this could spell even greater doom for the land-based establishments.
In the same way that online gambling sites and cryptocurrency payment methods are expected to increase in 2019, brick-and-mortar sites look set to fall further into decline. This is quite the worldwide issue as well, and with such strong advancements being made in the online world, the land-based industry could just see itself wiped out in some areas in the upcoming years.
Virtual Reality Brings a New Gambling Experience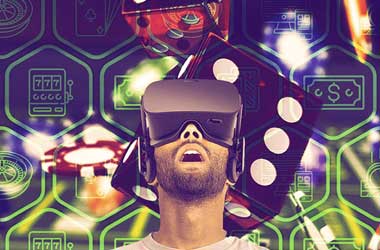 Virtual reality is making huge strides in several areas, including the online gambling sector. Some games and casinos have already been set up to allow for players to utilise VR headsets in order to participate in gaming. It may sound like quite a cliché to say it, but virtual reality is the future.
It's also true that VR technology is ready to make it possible for multiple other industries to make use of it. Some estimates suggest that by 2020, over 100 million people will utilise VR technology to assist with online shopping. With this in mind, you can see how appealing this technology would be for using in online casinos, for example. Users would get to experience a thoroughly immersive gaming session with it.
Certain software developers already have their feet in the VR pools and have masses of games that would fit in perfectly with a virtual world. Take for example, the Jack and the Beanstalk slot by Netent or It Came from…Venus! by Betsoft. Their stunning 3-dimensional graphics and setups cater immensely to VR. Speaking of the Jack and the Beanstalk game, Netent celebrated its 20th anniversary a couple of years ago and showcased the slot via a virtual reality experience. It's only a short matter of time before the VR gambling trend takes over the world.
A Huge Amount of Options – More Than Ever Before
The year of 2018 has already seen the number of gaming options for users increase by a large number, but this is set to continue exploding forward in 2019. Online casinos and gambling sites tend to feature more options than can be found in land-based establishments, which is another reason why the iGaming industry is ascending to greater heights.
For example, accessing a live casino gaming section at an online platform provides you with various live dealer games that you wouldn't get in brick-and-mortar halls. Just look at all the options that are on hand from the Evolution Gaming brand, for example.
Not only that, but the vast number of slots that online casinos can host is far greater than those that can be found at land-based casinos. The options that players can access via online sites is certain to continue increasing in the proceeding year.
It's no doubt certain to say that even more options will become available to play at these online platforms. Unique games, big progressive jackpots, intriguing themes and much more are set to give 2019's gambling industry a boost.
Smartwatches to Bring a New iGaming Experience
Virtual reality gaming is one thing, but what about placing bets through a smartwatch instead? People already engage in gambling through smartphones and tablets, and it would seem as though smartwatches are set to take over as the new gadget to have. Potentially, they could usurp other mobile devices as a more convenient and accessible option to go for. It's already predicted that the smartwatch industry will reach a global worth of $32.9 billion by the year of 2020, so why wouldn't gambling be a part of this?
In fact, the Microgaming brand already gave hints at the introduction of smartwatch technology to the gambling world, back in 2015. The developer's Dark Knight Rises slot game was developed to easily integrate into smartwatch technology, and the company even gave demonstrations of it working on such. Wearable technology will continue to grow in both popularity and worth, so you can potentially expect to see more game software developers craft titles that can be seamlessly integrated into these devices.