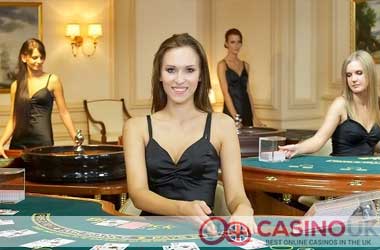 Live casino games are becoming ever more popular at online gambling platforms. Several different developers have taken to creating games in this genre, and some of them do it better than others. Live casino games basically take the idea of standard table games and incorporate live dealers into them at the same time.
Therefore, you're able to play games such as blackjack, roulette and baccarat with the added intrigue of physical dealers operating from studios or land-based casinos.
Because of this, you get to experience a whole different dimension to playing table games, being able to interact with the live dealers and other gamers.
Let's find out which developers provide the best software for this.
Evolution Gaming
Launching in 2006, Evolution Gaming is one of the only developers to focus all of its energy on creating live casino games. While some others have chosen to step their feet into numerous areas, including slots and video poker, Evolution isn't like this.
Instead, its only creations are live dealer offering. This is how the company has managed to secure its position at the top of the live casino developer rankings. Over 800 people are employed by the Evolution Gaming brand, with multiple versions of both roulette and blackjack being available to play. Additionally, players get the chance to access live casino games from mobile devices as well. This means that you can play the games from wherever you are.
The studio that the games from this developer stream from is located in Riga, Latvia and it's a truly professional operation that takes place. Dealers from Evolution Gaming are well-trained and speak fluent English. Alongside the standard roulette and blackjack offerings, the developer provides options like Three Card Poker, Baccarat, Casino Hold'em, Ultimate Texas Hold'em, Wheel of Dice and more. If you're looking for a truly exceptional live dealer experience, then Evolution Gaming is one of the developers to provide that to you.
Netent
Netent is a big name in the online casino industry already, but when you also include the fact that Netent creates live dealer games, it makes something even more exceptional. The live casino options from Netent first started operating in 2013 and they provide just as much of a thrilling experience as the basic range of games from the developer. Granted, the selection of live dealer titles from Netent isn't as big as the selection from Evolution Gaming, for example. Yet, even though this is the case, they still feature top-quality streaming of games and intriguing gameplay. These are present in the form of such games as Common Draw Blackjack, Live French Roulette, Live Blackjack and Live European Roulette.
The studio that Netent uses for the streaming of its games bases itself out of the small country of Malta. This isn't any sort of surprise though, as Malta is home to a vast number of other live casino and standard casino developers. The studio itself features the latest technology, allowing Netent to offer up an alternative solution to many of its competitors. Netent's choice to utilise Green Screen/Chroma Key technology in all of its games gives the possibility for different backgrounds and environments to be displayed while accessing the titles. Furthermore, the tables are open on a 24/7 basis and games are accessible in English, Italian, German, Norwegian and a few other languages.
Playtech
Playtech is well-known throughout the online world too, thanks to its mass of slot games and other options. The developer's first live dealer studio exists within the Philippines, so it does have a prime focus on the Asian market through this. The secondary studio streams its games from the country of Latvia, which caters to the European market. Because of its two studios, a large range of feature-rich titles can be found from Playtech, which also incorporates high-quality video and a strong streaming service. All games come with a chat feature as well, meaning that you have the possibility of interacting with the dealers and with other players at the same table.
Games from this developer also feature native-speaking dealers for markets from the United Kingdom, Spain, Italy and a few other locations. Some of the titles that you have the option of accessing from the Playtech range include Classic Blackjack, European Roulette, Casino Hold'em, Sic Bo and Baccarat. Therefore, one of the great perks of accessing games from this developer, is the fact that you will be able to play a huge range of options. TV Gaming is also a possibility through the Playtech range of live dealer games, while mobile gaming is also a possibility for you.
Ezugi
Starting out in 2013, the developer known as Ezugi holds a gambling licence from the Curaçao eGaming company. Basing itself out of Europe, the company holds operational centres in Latvia and Romania, while studios and offices can be found in Colombia, Israel, Malta, the UK, Bulgaria and other locations. Upon starting out, the company's games didn't have such huge quality to them. Yet, over the proceeding years, things evolved and Ezugi increased the content and graphics within its options. Now, they include high-quality graphics, professional and friendly dealers, and many more features to entertain gamers.
Ezugi allows you to access various different games, including options like Baccarat – Super 6, Bet on Numbers, Blackjack – 1X Bet, Unlimited Blackjack and Casino Hold'em. There's even the option of playing keno in a live setting, while roulette is also available in numerous versions, too. One thing that stands out about the Ezugi developer's live casino is that it tends to feature a larger number of male dealers. Competitors tend to focus primarily on offering games with female dealers, which gives Ezugi a bit of a unique approach to its games. Furthermore, it holds a place in several real casinos where live dealer games can also be streamed from. These include both the Royal Casino and the Portomaso Casino in Malta.
Extreme Live Gaming
Obviously not wanting to be left behind in the year of 2013, Extreme Live Gaming launched its own range in the very same era. Following its initial launch, Extreme was bought out by Novomatic, which is what helped to propel it to its current standing in the casino gaming world. The company holds gambling licences from both the Malta Gaming Authority and the UK Gambling Commission, ensuring that it serves up regulated and fair games. Many of its options are streamed live from its London-based studio, although others do come from the land-based casino on the island of Gibraltar. Blackjack, baccarat and roulette are all available as part of the collection coming from this developer.
Despite its several years in the gaming industry though, Extreme Live Gaming does seem to fall a little bit short in comparison to its competitors. The range of games is a bit limited and the dealers aren't as professional as what you can find from other developers. That being said, it has gone into partnership with multiple well-known online casino platforms, such as Leo Vegas Casino and BetVictor.