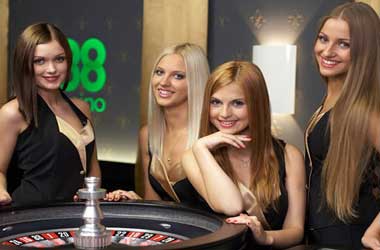 Live casino gaming has become something that many online platforms have incorporated into their lobbies. Then again, the progression of these games has been so swift and has captured the interest of many avid gamers, and it's led to the appearance of several software companies that choose to create such offerings.
Live casino games take the idea of standard table games, such as roulette or blackjack, and provide online players with a more-authentic land-based casino experience. And that all takes place from the comfort of home or from a mobile device. This is all done with the effectiveness of high definition streaming from an actual casino or from a studio, where game tables are set up with actual dealers and croupiers.
It has now been a few years since these games first came to light, but they quickly picked up speed in their expansion. And when you see some of the options from developers in this genre, it's easy to see why.
Yet, which software companies are the best for live dealer casino games? With multiple developers now having some sort of focus on the live casino gaming sector, it's important to know which ones provide the best experience when it comes to these games. So, join us as we look at the best live casino software providers 2019.
Evolution Gaming
Ask anyone about live casino games, and there's a likelihood that one of the first names that will be mentioned is Evolution Gaming. This software developer has been focusing all of its efforts on live dealer games since it first began operating in 2006. With such a vast wealth of knowledge behind it, there's little wonder that it remains at the forefront of people's minds.
Evolution Gaming has linked up with multiple well-known online casino sites, such as William Hill, Paddy Power and more, ensuring that its live dealer games are accessible to vast audiences. Holding gambling licences from authorities within the United Kingdom, Belgium, Malta, Romania and several studios throughout Europe, Evolution sits at the top of the collection of live dealer brands.
Not only does it provide standard live casino options, including multiple versions of roulette and blackjack, but it also has a selection of unique games, too. These include titles like Live Dream Catcher, Monopoly Live and Live Football Studio. It is these games that set Evolution apart from all the others, ensuring that it stands out in the crowd.
Netent
You can't possibly make a move in the online gaming world without Netent getting a foot in on the action – and thankfully, the live dealer sector is no different. Netent Live was brought to prominence several years ago as part of the software developer's expansion. Featuring live roulette, blackjack, Common Draw blackjack, Perfect blackjack and more, this only served to further heighten the attention that was being directed at Netent.
Even today, the Netent brand offers one of the most compelling live dealer experiences to players. Games are always streamed with supreme graphic content and in high-definition. As with the Evolution Gaming brand, Netent makes up a part of Sweden's Stockholm Exchange. Although the company doesn't specialise specifically in live dealer games like Evolution, the quality of the games is just as good.
One thing that does stand out about Netent's live dealer software, is that it's exceptionally robust and is considered to be one of the most-reliable online. Live dealer games are also accessible from mobile devices, meaning that players can enjoy what's on offer from any location.
Extreme Live Gaming
It may be the case that Extreme Live Gaming has been bought out by the Novomatic brand, but that hasn't stopped it from continuing to produce exciting and often innovative live dealer games. For example, it is this developer that is responsible for introducing players to Live Roulette with Slots, merging two popular casino games into one and sticking a live croupier into the mix, too.
Not only that, but Extreme Live Gaming is also the creator of Multi Table Roulette, allowing for gameplay to take place on three separate tables at once. Golden Ball Roulette is another offering that stands out from this brand.
Of course, it's not all about the roulette options. Instead, Extreme Live Gaming is able to provide players with blackjack, baccarat and even something known as LIVEBox. This provides a table gaming feed directly from a casino floor, ensuring that you get as close to the real thing as possible whilst still playing online. When you put all this together with high-quality graphics and enthralling table game options, there's little wonder that this company stands out as being one of the best for 2019.
Microgaming
As one of the originators of online casino game software, Microgaming wasn't about to let live casino game options pass by without involving itself. Holding game licences from multiple locations and three productions studios based in Canada, Argentina and the Philippines, this is one brand that is able to utilise all of its efforts to provide a stellar gaming experience.
The Microgaming live dealer software boasts variations of roulette, baccarat, blackjack, sic bo and casino hold'em amongst its ranks. Not only that, but it remains as the only company to provide Playboy Live Dealer games, featuring croupiers in their best Playboy bunny outfits. More than 100 online brands utilise the Microgaming software for its live dealer options, proving how far its reach is.
As with the others in this list, the software itself benefits from strong graphics and high-definition streaming, ensuring that anyone accessing it has an entertaining time and gets plenty of enjoyment from it.
Playtech
With live studios based in the Philippines, Latvia and Romania, Playtech has also ensured that it holds a strong position in the live casino gaming market. In fact, Playtech as a whole is perhaps the biggest online gambling company in existence at the moment.
Seek out an online casino and there's strong chances that games from Playtech can be found within its lobby. As far as its live dealer games are concerned, it has several variations of blackjack, including Unlimited and Prestige versions, as well as roulette, baccarat and sic bo options. These are joined by Hi-Lo, poker and even a Flagship offering of Grand Royal.
To add to this, its games are available to play in a multitude of different languages, including Italian, Spanish, Romanian, Russian, Italian and Mandarin.