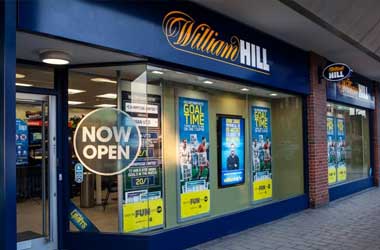 With the impending arrival of fixed odds betting terminals (FOBTs) having their maximum bets being reduced to just £2, William Hill is hoping to offset any potential losses from such. How? By pleading for rent cuts on its plethora of betting shops that it possesses throughout the UK.
The cuts to maximum bets on FOBTs will come into effect in April, and for some people who are very much against gambling, that move can't come soon enough. However, for popular betting brands in the UK like William Hill, it could see revenue decline quite considerably. This has led to some brands suggesting that jobs will be at risk, which is where the William Hill ploy to reduce rents on their shops comes into play.
It didn't take long for William Hill to bring up the issue of store closures, resulting in the loss of hundreds of jobs following the decision on FOBTs by the government. In fact, the bookmaker said that up to 900 of its betting shops could find themselves being shut down. It was with this in mind that William Hill said it would move forward in other directions, already proceeding ahead with a large expansion into the US market.
Speaking with The Guardian over the potential store closures in the UK though, CEO of the company Philip Bowcock said that multiple locations have been "earmarked" for such. He proceeded to explain that this would probably take place over two years, with 4,500 employees potentially losing their jobs in the process.
William Hill Thinks Up Other Options
It seems as though the bookmaker has been thinking up other ways of combatting potential closures and revenue decreases – first of all by expanding its online platform to incorporate more for players. Additionally, William Hill purchased the well-known Mr Green platform in February of this year, combining that move with its deals taking place in the United States.
This doesn't really do much for the jobs of those people who currently work in the William Hill betting shops, though.
Fortunately, the brand has been trying to make moves in order to save these employees and their jobs, with an open letter being sent out to landlords this past week. Over 2,000 landlords received the letter, which explained about the government's regulation changes affecting revenue. William Hill suggested in these letters that it could suffer a 50% drop in such before proceeding to request a reduction in rents for land-based shops.
The hope, from this, is that even if all the landlords don't go ahead with reductions, at least maybe some of them will. At least a lower rent should be preferential to a building without anything in at all.
For now, it remains unclear as to whether or not reductions in rent prices will take place. The main focus on all betting shops for the time being, is the arrival of the reduced maximum bets on FOBTs. The effects of this change will no doubt be displayed within the coming weeks.