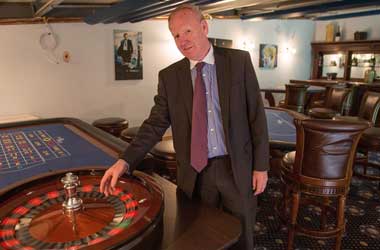 A 66-year-old man in the United Kingdom is currently facing possible ruin after being embroiled in a huge legal fight over a back-garden casino.
Graham Wildin had a 10,000 square foot building constructed behind his house, which he has been using as his own "ultimate man cave". However, he never sought or received planning permission for the building to go up. Because of such, a judge has ordered him to pay up a £30,000 fine to the council.
Despite Mr Wildin's claims that he had the building constructed via what he called "a legal loophole", the judge refused to accept such an excuse. Initially, it was believed that the construction in Cinderford, Gloucestershire would have to be torn down.
The so-called "man-cave" was built in 2014, in the back garden of Mr Wildin's mansion. Inside it, the millionaire accountant has had several entertainment features installed, including a cinema, a gym, a bowling alley and, as the icing on the cake, his own casino. Even though the building went up four years ago, a drone camera has only recently taken images and video of how vast the structure actually is.
So, What Now?
Even though he has been served the £30,000 bill for legal costs, which are fees for his battle to keep the building, Mr Wildin will also have to prepare for the demolition of his back-garden structure. The Forest of Dean District Council says that it is already preparing the timetable for it to be taken down. Yet, this could take a long time to complete in itself, with Mr Wildin potentially having to pay up around £720,000 more in costs.
Speaking of the judge's decision and the potential tear-down of his man cave, Mr Wildin said that it "would be a shame" for it to be demolished and that, either way, he will be a ruined man.
Mr Wildin hasn't been given any option to appeal the judge's decision by HHJ Jarman QC, though, so it looks as though things won't be able to go any other way. Unless he decides to appeal directly via the Court of Appeal, then the outcome is a done and dusted deal.
The casino that exists within the building may not be one for anything other than his own personal entertainment, thereby not really requiring a license to operate for himself and his family, but the real backdraft comes from the fact that planning permission was never gained by him.
And while the council has already been granted its £30,000 reward, the final order that relates to the construction will contain its own stipulations, timeframes and other important information regarding any and all compliance.