The Gambling Commission of the United Kingdom is one of the biggest licensing companies in the world. And it's responsible for providing both land-based and online casinos with the legality to operate. While the company does manage to do this on several levels already, some things are changing.
A recent statement from the UK Gambling Commission outlines a three-year strategy to improve industry regulation, thereby making it fairer and safer.
Once the new framework of the Gambling Commission's rules is laid out, all operators holding a licence are expected to adhere to such. The statement from the UK Gambling Commission also boldly pledges to toughen up when it comes to upholding the industry standards. But what exactly does this mean?
As we said, the Commission already does quite a good job of providing regulation for many casinos and sportsbooks. So, it's a curious move, no?
A Response to Gambling Addiction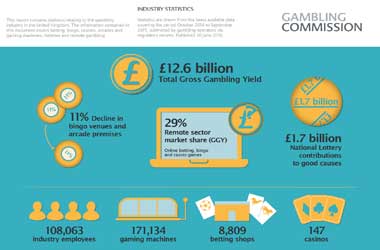 The United Kingdom has roughly two million gamblers, and some of these players are at a high risk. A Government review into the industry as a whole has revealed a need to undergo a period of reform. The Commission is looking at cutting stakes on certain forms of gambling to achieve this.
And while this does mean that many operators are fretting about a cut to their income, most are still supportive of the move. The safety of players is a key part of online gaming, and a more responsible attitude from platforms and the Commission as a united front is necessary.
It is said that about 65% of adults in the United Kingdom have gambled at least once in the past year. And looking at the statement that the Commission released, there is a need to "balance consumer choice and enjoyment against the risks and impact that gambling can have". Of course, while close monitoring of the gambling industry is quite necessary, casinos and other such platforms need to be able to operate on a fairly free level too. Otherwise, it's quite likely that they won't be so profitable.
Three-Year, Five-Point Strategy
The plans that the Gambling Commission aims to implement look to find a balance between safety and freedom. This will start rolling out in 2018 and build on existing regulatory systems, through to 2021. There are certain key points of this strategy that include committing themselves to "protecting the interests of consumers". In other words, betting platforms will be expected to keep all forms of gaming and gambling safe and fair for gamers.
Gambling Commission
Not only that, but heavier sanctions will be brought forth for those licensees who fail to adhere to the new regulations. Such has been the case already this year, with the huge fine that 888 Casino was given over a self-exclusion failure. Operators will also need to provide better customer support for players with problems relating to gambling. This includes being more proactive when it comes to intervention programs and processes.
And the Gambling Commission also aims to improve its own operations. The strategy promises that the licensing company will "improve the way it taps into consumer and public issues", and aims to support the UK Government in tackling problems within the gambling industry.