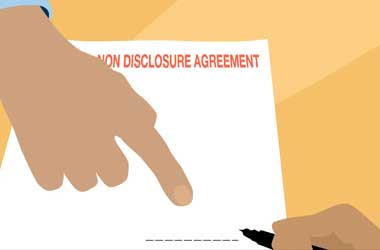 In further moves to combat the United Kingdom's gambling industry negatives, casino operators have recently been warned over forcing players to sign into non-disclosure agreements (NDAs). The agreements, if found to be in action, could now lead to the operators being on the receiving end of disciplinary action.
The UK Gambling Commission (UKGC) released a statement on January 31, stating that certain NDAs are potentially in breach of the conditions surrounding the licences that some casinos hold. This statement came following the regulatory body being alerted to various potential breaches from operators. Following on from this, the Commission went on to say that customers being silenced by a casino or other gambling institute is very much unacceptable.
NDAs will usually come into effect in the case of a settlement agreement, although each different operator has different types of these in action. Yet, it's still fairly common for players to sign such documents without knowing about it, after a dispute has been settled between themselves and the operator.
The Commission looked into this and found that NDAs had been inserted into the follow-up documents by some operators, and players have been silenced by such clauses after signing.
Complaints Procedure Needs More Clarity
It's true that sometimes, those NDAs will be put in place to protect the operators and their casinos, as well as other consumers of their products. Yet, the Commission has its concerns that they are being placed into documents as a way of stopping any affected parties from being able to report issues that they have faced.
In the statement from January 31, it reads that some of the agreements could have affected consumers by not allowing them to report regulatory concerns to the Commission.
The Gambling Commission has no qualms about taking action against such operators, though. Last year was filled with news about online and offline casino operators receiving warnings, fines and more, due to failures when it comes to regulatory standards. It was mid last year when 32Red was handed a £2 million fine for its lack of social responsibility, for example.
To assist with reminding operators about the obligations they have, the Gambling Commission is working hard on the overhaul of its guidelines for alternative dispute resolutions (ADRs). It has already located five areas of such that can be improved, following a look into complaint procedures throughout the network of licensees.
The biggest issue that the Gambling Commission found was that there's a lack of guidance for those consumers looking to complain about an operator. To add to this, a collection of operators are also choosing not to accurately report any problems or complaints that they have received from their players. This is something that the UKGC is looking to combat following the newly outlined ADR guidelines published in November of 2018. Customer satisfaction and clarity for players is the focal point of this now.