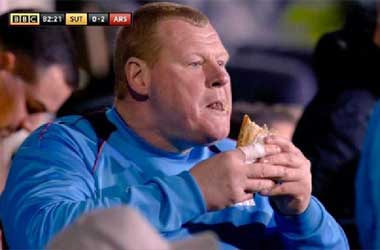 If you're not an avid follower of sports betting, then perhaps last year's 'piegate' uproar breezed past you without you noticing. However, the betting company that was behind it has now been given a fine by the UK Gambling Commission.
So, what exactly was 'piegate' all about? Well, it was a publicity stunt which would lead to the former substitute goalkeeper of Sutton United Wayne Shaw opt to eat a pie while a televised broadcast of the FA Cup tie against Arsenal was going on. The Sun Bets brand (which also provides an online casino) sportsbook chose to offer 8-1 odds on the player finishing the entirety of a pie while the game was in play. Tabcorp, which is the owner of the Sun Bets platform, has now received an £84,000 fine from the Gambling Commission due to the controversy.
This stunt also came with other downfalls as well. It resulted in Shaw himself receiving a fine of £375 from the Football Association and a two-month ban from any and all football activity. He would later go on to resign from Sutton United. Furthermore, the Commission went on to punish Tabcorp for providing bets on whether or not a streaker would show up on the football pitch. While the platform did warn that this was potentially something that could amount to committing a criminal offence, it didn't stop the bookmaker from offering such a wager.
The Commission Speaks Out
The Gambling Commission spoke out against Tabcorp, stating that it could lose its overall gambling licence, deeming it unable to operate legally within the United Kingdom, if it should be found to be offering such bets and behind similar publicity stunts in the future.
During the time that the Commission was investigating this issue, it also discovered that Tabcorp had allowed over 100 gamblers who had requested to be barred from betting to actually continue doing so – simply from opening up a duplicate account with the sportsbook.
The Program Director at the Gambling Commission, Mr. Richard Watson said that this kind of behaviour from Tabcorp was unacceptable.
"Gambling firms must ensure the systems they have in place are protecting their customers effectively."
Watson also spoke about the fact that novelty betting options, like the ones that Tabcorp were offering via Sun Bets, may appear to be "a bit of fun", however consequences for such are serious. Why? Because they have the strong potential to drive a person or people to criminal acts or to breach the rules of a sports governing body.
As far as Tabcorp goes, the Commission said that the company had accepted that it had not carried out any specific risk-assessment when it came to the possible impact of what became 'piegate'. Furthermore, Tabcorp agreed that it shouldn't have placed any reliance on the eating of that pie being broadcast on live television on the BBC as being a sufficient way to be able to manage the potential risks relating to integrity.