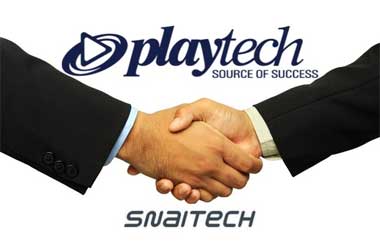 Playtech is constantly expanding its presence in the online gaming world – and you wouldn't expect anything less from one of the world's largest online casino game providers. Now, the British developer has acquired a stake of about 70.6% in the Italian operator known as Snaitech. And the cost of this deal? Around €846 million (£733 million). With such a huge figure, Playtech is expected to provide this payment via its existing funds, as well as by a new debt.
Once this initial acquisition goes through, Playtech will then be required to place a compulsory takeover bid that relates to the remaining percentage of Snaitech. Naturally, both shareholders need to approve the initial acquisition, as well as the regulatory authorities. Estimates put the third quarter of 2018 as being the time when the deal will be finalised, while the entire transaction should be completed by the time the year ends.
This takeover is thought to be a part of the Playtech plan to generate a vast majority of its revenue from markets around the world. Upon this Snaitech deal becoming complete, the united company looks set to be able to generate about 80% of its entire revenue from regulated markets. Snaitech is regulated to a full extent in markets where it operates. It's not only online casino games that this operator works with either – it actually has links to racetrack management, as well as television services. In 2017, reports suggest that Snaitech's revenue came in at about €890 million, with annual core earnings reaching around €136 million.
UK Regulations Force Playtech to Look Elsewhere
Being a UK-headquartered company, Playtech is looking at stricter rules and regulations to follow from the Gambling Commission of the company. This is all due to the regulatory authority's crackdown on the industry following several negative discoveries during a routine investigation. In fact, it was only recently that we reported on the Commission mulling over whether or not to ban credit card deposits. And fixed odds betting terminals (FOBTs) are also facing lower maximum bet limits too.
In actuality, a wave of consolidation has been passing through the United Kingdom when it comes to the gambling market. Gambling operators are trying to keep their own market share so that they can come face to face with the stricter measures put in place by the Commission and deal with them in the best way possible.
The belief is there that Playtech's decision to acquire Snaitech will lead to both a land-based and online gaming business in Italy that also sees it able to control all of its own products and technology across both sectors. As well as this, the takeover is expected to boost Playtech's revenue from regulated markets significantly. It also puts the British company in a great position as far as the developing Italian gambling market goes.