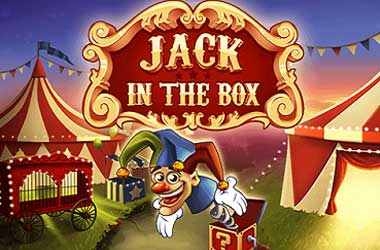 It's always exciting to see a new slot game undergo a launch. And we're right here for the PariPlay release of Jack in the Box. The slot itself will take you to the joys of the circus, with huge tents on display in its background. And, of course, PariPlay's usual standard of high-quality graphics are proudly visible to see. That's not all, because this new game from the developer also incorporate a truly exciting soundtrack at the same time.
Circuses will always be an enthralling experience, which is why this Jack in the Box game works so well. And it contains a rarer six-reel layout for you to play on too, with 100 different win lines spreading out across the screen. It also comes with entertaining icons, all of which relate to the joys of the circus. Of course, a slot game such as this one would be lacking if it didn't provide players with some special features too.
And that's why it incorporates freespins into gameplay, as well as expanding wilds and sticky wilds. Furthermore, you may be able to trigger a bonus round, complete with amusing jack-in-the-box symbols. However, perhaps its most visible perk comes in the form of the mega icons. They show up as large 4×4 symbols across reels two, three, four and five.
A Real Treat in the Box
Jack in the Box certainly provides its players with a thrilling game to play. And it also comes with a return to player (RTP) ratio of 95.98% alongside. The icons that appear upon its reels include performing animals, such as the lions and elephants, while human cannons can also be seen. This game just serves to expand PariPlay's current collection of such, which stands at over 100 strong. It comes as the latest release, following on from the appealing releases of Pets and Fire Vs. Ice. Both of those slots came to light in the third quarter of 2017.
"Original video slots are a core development focus for our studio, and Jack in the Box stands out in our portfolio as the most sophisticated and visually stunning title we've developed to date…", said Adrian Bailey, Managin Director at PariPlay Ltd.
The Company
PariPlay has been specialising in creating instant win, scratch card and other fixed odds games since it began operating in 2010. And it has been creating such games for both online and land-based casinos. The company holds its own licence from the United Kingdom Gambling Commission, while a second one comes from the Gibraltar Gambling Commission.
Not only that, but PariPlay offers its games up to multiple different online casinos. So, you won't have to search that hard to find a location at which to access such. While the company does specialise in providing gamers with slot offerings, it still maintains a decent amount of table games too. Therefore, it is able to offer up a very nice collection of diverse games to its clientele.
With the releases that PariPlay has been putting out this year, it's clear to see that the company shows no sign of slowing down just yet. And why should it? The last two releases in the slot category were successfully received by the gaming community. And Jack in the Box looks like it's set to make it a hat trick.