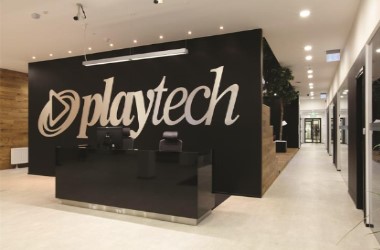 Last year was quite the trying one for the United Kingdom's gambling scene, with the Gambling Commission making several adjustments to combat various outlying problems. This has, without a doubt, caused issues for many online casinos, sportsbooks, software providers and more within the industry.
Yet, one company that doesn't expect to have been affected by the changes too drastically is Playtech. In fact, the software developer expects to see an increase in profits for 2018 of 21%.
The brand published its annual report on February 21. Within this report, the supplier said that its revenue actually improved by a total of 54% for the period of 12 months running up to December 31 last year. After these figures went through adjustments for Earnings Before Interest, Tax, Depreciation and Amortization (EBITDA), the income of Playtech was up by a total of 7%, standing at £297 million.
In looking forward to the earnings for 2019, bosses at Playtech believe that they will be able to go above £300 million. The reason for this optimism? The various partnerships that Playtech has signed itself into with new online casinos. These aren't just based within the UK, but also around other European countries and even in Latin America.
The Real Reason Behind Playtech's 2018 Success
Of course, looking forward to an even more profitable year is great, but what was the biggest contributing factor to the great 2018 that Playtech had? Well, without the contribution from its takeover of Italian brand Snaitech last year, an extra £444 million wouldn't have been added to its overall £1.04 billion earnings. Should this not have been under Playtech's operation, then revenue would have fallen by 14%.
Speaking on the figures that were announced in the report, the CEO of Playtech, Mor Weizer said that with such huge pressures on regulated markets, especially the UK's, his software company has found it difficult. He spoke of having an "accelerated growth" of over 25% in various regulated markets outside of the United Kingdom.
It's true that gaming operators within the UK have had to suffer through various changes made by the Gambling Commission, which have constricted their margins significantly. Fixed odds betting terminals (FOBTs) have had their maximum bets cut, which was one of the big UK gambling stories of last year. Additionally, online gambling operators are faced with having to pay higher taxes.
So, when you combine the fact that Playtech has had to suffer through worsening operating conditions within the UK, as well as a lower-than-expected revenue from the Asian market, and let's not forget about that £25 million fine imposed on the brand, it's been a tricky time for the company. Yet, thanks to the inclusion of revenue from Snaitech, it seems as though Playtech has managed to survive through the tumult that has been thrown its way.
As well as this, Playtech did put plenty of focus on responsible gambling last year. To add to that, part of the brand's mission to obtain (as well as retain) licences to operate in regulated areas saw it partner up with Featurespace. Let's not forget about the launch of its real-time fraud protection operation as well.
It's true to say that, with all of this, Playtech remains as one of the largest names in the industry, and 2019 could definitely be an even more profitable year for the brand.