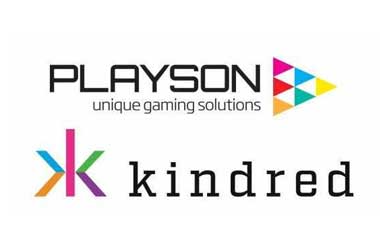 In a bid to expand its own presence within the gaming market, online software developer Playson has taken it upon itself to enter into an agreement with one of the industry's major players, Kindred Group.
Yesterday, a press release from the developer stated that a selection of its online slot games has already gone live with the operator, which bases itself out of Malta. In addition to this, even more games from the brand are expected to be added to the various platforms that are currently operated by Kindred. This will take place at a later, as yet undisclosed date.
Kindred Group may not be as well known as far as its operator status is concerned, but when you realise that it is the owner of such popular platforms as Unibet, things become a lot clearer. It's also at Unibet that Playson's games have been rolled out, and this includes two of the developer's most popular online slots in Crystal Crush and Crystal Land. Plus, every new release that comes from Playson will also be integrated into Kindred's online sites.
It was this move that Playson spoke of recently, saying that it is working as one of several strategic business moves by the company. Additionally, the brand went on to say that its products would now be available to a much larger audience, thanks to Kindred's presence within certain important regulated markets around Europe. These include markets within the United Kingdom and Sweden.
Playson and Kindred Group Speak Out
Speaking with regard to the decision for Playson's games to be added to the Kindred Group's online casinos, Business Development Manager at Playson, Lars Kollind said that the operator is "renowned" as far as the value that it brings to innovation. He said that Playson is thrilled to have been able to mark the start of a joint venture with two of the developer's most innovative slots.
It didn't take long for the Kindred Group's Head of Casino, David Robertson to back that up, saying that Playson has been growing and building up its own "excellent reputation" as far as its games are concerned. He said that the Kindred Group are thrilled to now be offering content from the brand before mentioning that Playson is definitely "a supplier to watch".
Throughout Europe, the Kindred Group is active in various locations, and it is in much more recent months that the operator has been looking to move into the US market, too. It was earlier this year that it went live in New Jersey, and it is thought that it will soon be operating within the Pennsylvanian market.
With regard to Playson, its own business is expanding rapidly. It was only last week that the developer announced that it has signed a deal to supply content to online casino and sportsbook Betzest, one of the newcomers to the market.