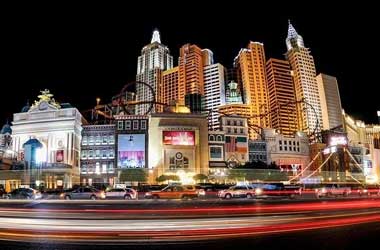 When speaking about the casino gaming world, a right figure of speech would be, "times have changed". It's never been more fitting, as if you look back about 25-30 years, the only way to have casino fun was to leave your house and visit a land-based establishment. Oddly enough, this all used to be part of the thrill of the gaming experience too. Some people even used to build vacations around the ability to go to a casino in the process.
Of course, as more and more land-based casinos started opening their doors, players had more choice of where to go to satisfy their gaming needs. And these casinos would also contribute very nicely to the budget of countries that legalised them. However, once the internet allowed for online casinos to become an entity, things took a turn for the worse for such places.
While it had been commonplace for gamers to have a face-to-face experience with a dealer or a croupier in a brick and mortar establishment, today it no longer remains true. With the boom in online gaming, players now have the ability to access casino games from the comfort of their own home. Even live casino gaming brings forth quite an authentic casino experience, if that's something that gamers miss. It's certainly true to say that online casinos provide a much easier and potentially cheaper option than having to go on vacation and visit a land-based casino.
Is There Any Hope for Classic Casinos?
Despite initial reactions to online casino gaming regarding it as being nothing more than a passing fad, this industry has actually grown over the proceeding years to be one of the biggest forms of entertainment. After all, it does have quite a number of advantages assisting it. While classic venues for gameplay have been standing strongly enough, there has certainly been a noticeable decline in their popularity.
For sure, land-based casinos aren't going to give up without a very strong fight. Even though quite a large portion of brick and mortar establishments have either closed up altogether or find themselves with a large amount of debt, a few others have made changes to appeal to gamers. Take, for example, the Golden Nugget platform.
The Atlantic City establishment has combined its efforts of both offline and online casinos as some kind of solution towards the ongoing battle between the two. The online gambling industry is a very demanding one as far as its consumers go, which is why both operators and software developers need to try and embrace and accommodate it. In actuality, some of them already are.
As it stands, two of the online world's biggest names have brought forth a solution that land-based casinos could adopt and benefit from. Netent and Mr Green have both presented the Live Beyond Live project, first debuting at the ICE Totally Gaming Event in January of 2018. This exists as an innovative 3D live casino solution, which will be exclusively available at the Mr Green platform for the proceeding 12 months. With such an offering, offline casinos may see an interest generated in pursuing something of a similar nature. Perhaps their own gaming floors can be brought to players who opt for online gaming from home?
After all, if you can't get the players to come through your front door, why not take your front door to them instead?