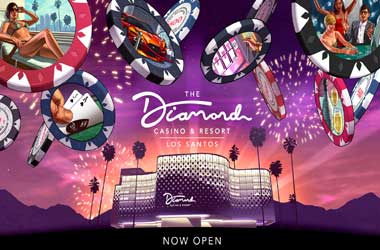 The Grand Theft Auto V game was released more than six years ago, but it remains on everybody's radar, thanks to the fact that it continues introducing updates for the online community. One of the more recent releases for the game was its online casino, which drew controversy from some locations, leading to it being blocked in many countries. Yet, even though this is the case, this latest update for the casino has seen it win various awards.
November 15 saw The Golden Joystick awards take place in London, with the winning games being voted on by the public. It seems like even though the launch of the Diamond Casino & Resort to the online version of the game brought controversy with it in various forms, players of the GTA game still like it. After all, it was voted as the Best Game Expansion of 2019.
This didn't come as any surprise to many, considering that many people had been waiting for a casino update to the game. Rockstar Games, the creator of the GTA series, finally graced the players with this update earlier on this year. It has since risen to prominence within the video game, which has seen increased player spending by 23% in the months following its arrival. That's quite the achievement for the online casino that has been marred with controversy since its release.
Casino Is Banned in Multiple Locations
Rockstar Games was pretty much forced to block the Diamond Casino & Resort in over 50 jurisdictions prior to it being launched, thanks to the fact that social gaming and in-game transactions were considered to be quite sketchy and potentially illegal in those areas. Many US states were blocked from accessing it, and Rockstar had to make their way through quite the regulatory minefield to get it online.
The developer faced quite the backlash when it was finally launched from those players in blocked jurisdictions. After all, they had been waiting for a five-year period for the casino to be brought to the game, only to find that they had been blacklisted from accessing it. Of course, that is of no fault of their own, but issues surrounding their country of residence.
Yet, it seems as though these issues haven't affected the popularity of the Diamond Casino & Resort update. Strauss Zelnick, CEO of Take-Two (the parent company of Rockstar Games) said that the performance of GTA had far-exceeded his expectations for Q2 of 2019. This, he said, was thanks to the online casino "delivering the best quarter yet with respect to daily, weekly, and monthly active users".
The casino doesn't allow players to gamble real money or cash any out, either. Hard cash can be utilised to purchase in-game currency for the casino, which is converted into chips. This allows players of the GTA V video game to enter the virtual casino and engage in spinning slot machines, playing card games like blackjack and more.