Despite the earlier warnings from the United Kingdom Gambling Commission, the ICE Totally Gaming event saw gambling companies stick to their guns with their usual scantily clad females. The CEO of the Commission, Sarah Harrison had threatened that the event would be boycotted, should women be paraded in skimpy outfits and in a sexual manner. However, these warnings seem to have gone by without a second thought, with displays and sections from alternating companies at the event having women on display in such ways.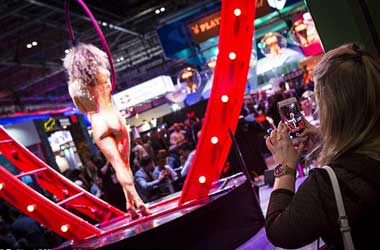 Guests at the ICE event were entertained by a show with a Playboy theme behind it, while others saw pole dancers in barely-there attire. Additionally, hostesses who were present at the event claim to have been harassed and propositioned by guests. It was the Microgaming company that kicked off such events, providing the aforementioned Playboy-themed segment. This was all in keeping with one of the company's latest releases – a slot game that focuses itself on the infamous magazine. A little bit later came Endorphina, which provided a stand featuring pole dancers who gyrated and entertained a primarily male audience. The dancers who were at this developer's stand wore little more than high heels, lingerie and fishnet stockings.
However, performing in such attire is one thing, but being harassed is quite another. One woman who took up the role of one of the event's hostesses said that somebody had asked her "how much [she] would charge". The woman, who was hired at a rate of £100 per day, knew that the guest was referring to charges for sex. The same woman went on to state that the event was akin to the Presidents Club dinner, which she had also attended before it became defunct. Hostesses were also allegedly groped and harassed by men at that event. Her role at the Totally Gaming event? "Just stand there", were her own words.
Inappropriate Behaviour for the Sake of Gaming
A hostess agency had provided two other female entertainers to the event, who said that there were at least six agencies doing the same thing. In total, between 250 and 300 women from these agencies were employed to work with each other and several had complained of unwanted advances and physical contact from guests at the conference.
Another stand saw two models from the Czech Republic note that they do sometimes experience sexually inappropriate behaviour. However, the two refused to discuss it further or say which agency had sent them to the event. Both had signed their own non-disclosure agreements. This comes in stark contrast to a few sources of the gambling industry, who claim that the event had been toned down this year in comparison to past times.
It's said that the ICE event also included a small stand which was hosted by an organisation known as All-In Diversity Project. This company describes itself as one that is there to "benchmark diversity, equality and inclusion for the global betting and gaming sector". The stand had its own blackboard, which invited people to finish off the phrase, "The way to equality is…". The words, "less promo girls" were found scrawled beneath it.
Despite the fact that men were there in suits and ties to discuss their businesses and try to seal trade deals, most of the stands were actually fronted by these scantily clad women. It seems as though the gaming companies and the gambling industry in general has not taken a great deal of notice towards Harrisons warning words. In her statement, she even said that such sexist routes could lead to a "significant stain on the industry´s reputation".