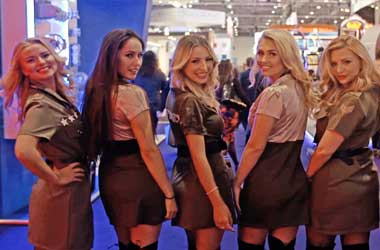 An annual conference is set to take place this week where women attending such are said to be appearing in swimsuits. The ICE Totally Gaming event, which operates as the largest conference in the world for the gambling industry, is, however, under threat of suffering from a boycott. The UK Gambling Commission's CEO, Sarah Harrison is warning that unless attitudes towards these sexist ideas change, things could get a little bit ugly for the conference. This is all a part of the Commission's move to help rid the industry of sexism.
It's also not the first time that such scantily clad ladies have been seen at an ICE event. The conference, which brings together the online gaming and offline gaming worlds, including casinos, has seen multiple guests in previous years noting that companies with stands there frequently utilise women with barely any clothes on to bring people in to their displays. Harrison hopes that this year's event will be different with her warning though.
It comes at a time when a fierce debate is in session regarding the use of women who are employed to offer up hospitality at different events. It may all seem like a bit of fun, but it comes following the recent reports of occurrences at a dinner in the Presidents Club – a male-only event. Revelations from this event suggest that female employees were both groped without consent as well as sexually harassed by guests. It also falls in line with the decision of Formula 1 to stop utilising "grid girls" at events, while events in the darts world have also chosen to stop their use of "walk-on girls", who usually escort players into the oche.
Harrison's Strong Stance
The Totally Gaming event of last year is what has inspired Harrison to come forth with her requests to senior figures within the gambling world to follow in the footsteps of Formula 1 and others. She marked the use of such scantily clad women as being somewhat of a "significant" mark when it comes to the reputation of the gambling industry. The speech that Harrison gave to these seniors on Monday saw her reference the many "talented, powerful and successful women" in the industry.
However, she remarked that you would never know about them due to the men who were in expensive suits and representing their own companies at last year's event, while female employees had on little more than a swimsuit. Not only that, but she moved to put an end to the Gambling Commission's participation in the ICE conference if things do not change significantly.
Furthermore, the European Casino Association (ECA) as well as Clarion Gaming, both of which organise the annual conference, did urge any companies exhibiting at the event to be wary of sexism allegations. In a joint open letter, the two companies stated that in the 21st century, both sexes hold not only strategic, but also decision-making positions within gaming businesses. Therefore, they "encourage all exhibitors to mindfully represent support staff promoting their products in a non-offensive and non-stereotyping way".
A positive image of the gambling industry is what Per Jaldung, the ECA Chairman called for. He said that it important for exhibitors to be able to showcase their products in a manner of respect that does not resort to any "outdated stereotypes".