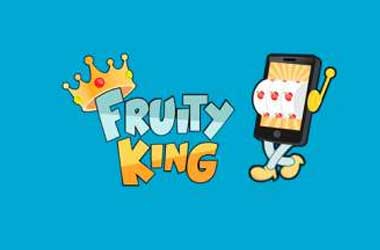 The Fruity King Casino – which claims to the be the King of Mobile Casino Games – has been in deep water over the past few months.
On September 8 of this year, a Tweet was added to its Twitter page with a photo of the presenters from the Loose Women television show that airs on weekdays at 12:30.
The image that was within the tweet showed several presenters from the programme, including Katie Price, Janet Street-Porter, Andrea McLean and Linda Robson, in their under garments.
The original photo was taken earlier on in the year in order to promote a section of the show known as Body Battles.
However, Fruity King online Casino posted the photo with a caption that read, "You can put lipstick on a pig, but it's still a pig", complete with the hashtag, #LooseWomen18.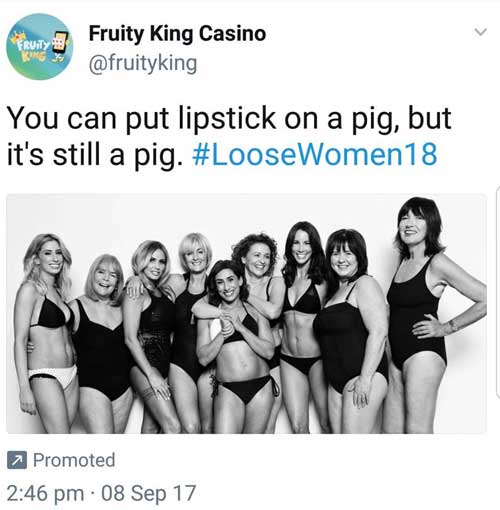 No sooner had it been Tweeted out, it was labelled both "outrageous" and "offensive". The Advertising Standard Authority (ASA) received a complaint stating that the Tweet was both sexist and very likely to offend people. This pushed the ASA to ban the advertisement from being used, citing that it had "ridiculed the presenters" and was also offensive towards women.
The ASA commented:
"We considered that the image shown in the Tweet would be understood by viewers as intending to portray a positive image of women's bodies. However, we noted that the text, 'You can put lipstick on a pig, but it's still a pig', was shown above the image."
The ASA said that it considered that the tagline was directed at the presenters within the picture and therefore ridiculed everything that the picture stood for. The company then went on to state that the image combined with the words was definitely derogatory to women.
The Casino Speaks Up
While much of the initial backlash was targeted at the Fruity King Casino platform, the blame was not that of the gambling site. ProgressPlay Ltd. is responsible for the casino and bosses at the company have since apologised for the Tweet as we as any offence that was caused by it. The ASA has already informed the ProgressPlay team that future advertising should not be offensive or derogatory in any way towards women.
That being said, an alternate spokesman for the Fruity King Casino told that he did not think the ad was derogatory towards women. He claimed that the Tweet was not directed at the presenters of the television programme, but at the overall show itself. The spokesman remarked on it as being a "low quality programme".