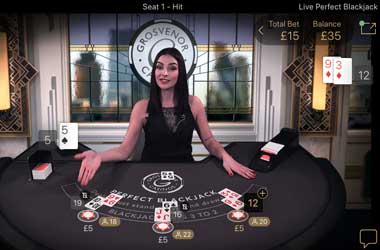 Netent isn't specifically a brand known for its live casino games; more so it's collection of games in general. However, perhaps in a bid to give its live dealer products a bit more of a push, the developer has created and launched a new title known as Perfect Blackjack.
The game has already been added to its portfolio, although news regarding the release was first spread earlier on in 2019. Once the ICE conference rolled around in February, the London exhibition was given a quick glimpse into how the classic blackjack title would look.
Details at the time were provided on the game, which stated that Netent had joined up with The Rank Group – a British gambling company – as well as the Grosvenor Casinos brand. The latter of these is known throughout the United Kingdom as its largest multi-channel casino operator, offering up multiple brick-and-mortar establishments as well as a variety of online gaming possibilities.
In the run up to the Perfect Blackjack game's release, the Netent brand has been raving about it, labelling it as a fun-friendly title that provides unique entertainment to players. Yet, the prime focus of the game is said to be in welcoming new players towards Netent's titles, thanks to the inclusion of its 99.5% RTP rate.
Details About Perfect Blackjack
The live dealer game will be streamed from Netent's live casino studio based in Malta, and this is the latest addition to that group of games since it began operating in 2013.
Perfect Blackjack will have cards dealt in accordance to the perfect blackjack strategy. This minimalizes the house edge in the game down to a meagre 0.5%, providing much more of an incentive for players to access it. Perfect Blackjack also offers up a much speedier game, and it acts as the first Netent live dealer game to incorporate an autoplay function into its setup. With this, anyone playing the game can decide whether they would like to auto-split or double down.
Because the game was developed as part of a partnership with Grosvenor Casinos, Perfect Blackjack was initially only made available on the Grosvenor website for playing. Yet, it has now been made available across the full live dealer network from Netent.
Speaking of the introduction of Perfect Blackjack, the Live Director for Netent, Andres Rengifo said that players will be able to "enjoy the benefits of optimal strategy." He went on to say that the game is exceptionally innovative and that it brings something completely different to the live dealer market before proclaiming that the brand has "seen that it's an entertaining and popular product."
It can only spell good things for Netent, which went on to secure over two dozen partnerships for its live dealer casino games in its first year of operation. Since that time, the developer's clientele base for live casino products has significantly expanded, and Perfect Blackjack can only bolster that group of partners even more.