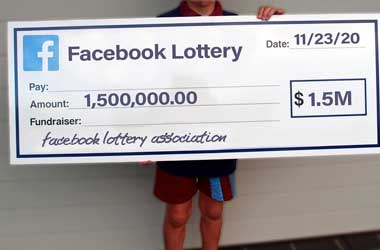 We all love Facebook, right? It's one of those social media outlets of which people cannot get enough. However, it's also a target for several scam pages every single year, with the latest one relating to fake lotteries. There are hundreds of groups on the social platform that tempt people to bet on private syndicates, leaving many players out of pocket.
Many of these scam pages promise to provide players with pay-outs of huge cash figures like £5,000. Meanwhile, others offer up smartphones, games consoles, cars and more as potential prizes. These pages usually ask participants to make an investment of between £0.50 and £20 on the lottery bonus balls. It's also fairly common that payments for these bets are taken via the popular eWallet PayPal. However, players of such need to heed strong warnings, as a large portion of these pages disappear after taking money from participants.
While it's true that some others do provide the pay-outs that they offer, a big number of them don't. Furthermore, these groups are considered illegal, as lotteries are not able to be run for any sort of private gain or commercial gain. Additionally, some organisers of charity lotteries fear that such pages could tempt minors into betting too.
The Social Media Problem
It's not only against the gambling rules of the United Kingdom, but against the rules of Facebook itself as well. Even though this is the case, there are still over 100 Facebook groups that dedicate themselves to offering lotteries. Some of them even go as far as having over 1,000 members participating in such.
The United Kingdom Gambling Commission is making moves to shut down such illegal groups primarily. However, the country's regulatory body can also prosecute the organisers of such. Sentences can be anywhere between a £5,000 fine or up to 51 weeks in prison.
The Chief Executive of the Commission, Mark Etches stated that there is risk in any type of gambling. However, he was more specific in pointing out that the dangers are much higher in illegal forms of such. They do, on the other hand, become very profitable for the organisers. Furthermore, because social media is such a large part of young people's lives, it's easy for them to access such.
Unregulated gambling doesn't come with the obligation for players to confirm their age or offer assistance to problem gamblers.
"When we become aware of illegal lotteries, we act quickly to close them down…"
said a spokesperson for the Commission. Not only that, but firm action is expected to take place against the offenders who are responsible for them. As it stands, Facebook is also investigating the illegal gambling issue. For now, social media users are being warned to be vigilant when it comes to betting on lotteries. Always make sure that the gambling you are participating in is legal, regulated and fair.