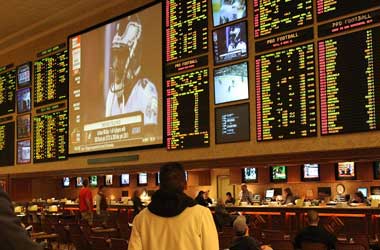 Talks have been in place for several months now within the United States over the legalisation of sports betting across the board. It's expected that the Supreme Court will come up with its decision by no later than the end of next month. Of course, this all started with the movement from New Jersey, who pushed forth with the bid to begin offering sports betting. Should this bid be successful, it could also start a domino effect, where one state after another approves such betting possibilities both offline and online.
A number of forecasters have predicted that income from sports betting will rise to billions of dollars within a period of five years. With such statements, companies like Caesars Entertainment Corp. and MGM Resorts International are watching the case very closely. A UK-based analyst, David Henwood said that all of casinos within the US are "sort of circling around the opportunity" and waiting to make their move.
As of the moment, federal law within the US limits sports betting to a small group of states which offered it as a possibility before legislation was passed back in 1992. These states are Nevada, Delaware, Montana and Oregon. From these, there's only the state of Nevada that provides a full collection of betting choices. Oregon no longer has such possibilities, despite originally providing them.
Who Will Benefit from This?
Throughout the years, many sports leagues have been against the expansion of betting to encompass them. However, it seems as though now that sentiment could be changing. For example, the National Basketball Association (NBA) has been seeking out a 1% cut of takings, should wagering begin being allowed. Five of the US states have already passed legislation as far as online gambling is concerned – Mississippi, New York, New Jersey, West Virginia and Pennsylvania. Therefore, these five could already be in a position to provide sports betting if the Supreme Court legalises it.
Nevada is obviously known for being the casino and gambling capital of the world, and its current appearance could provide a look into how many other states will end up. Nevada betting shops also allow betting to take place while a game is in-play, known online as live betting.
For now, it's thought that if a court decision does rule in favour of legalising sports betting, the most likely initial winners will be those existing operators. For example, online and offline casinos, horse tracks and lotteries. They already have a position within the gambling world, so incorporating sports betting into their current efforts won't be such a huge step.
Furthermore, we reported a couple of months ago about how Scientific Games Corp. completed its $631 million takeover of Nyx Gaming Group – the largest supplier of sports betting software around the world. Following a hold up due to UK gambling company William Hill not wanting Scientific Games to get the upper hand in New Jersey, the deal finally went through. William Hill is already the leader of sports betting within Nevada and has gone on to construct sports betting stands in New Jersey at Monmouth Park Racetrack already. All of this in anticipation of the Supreme Court coming through with complete legalisation of the sports betting world.