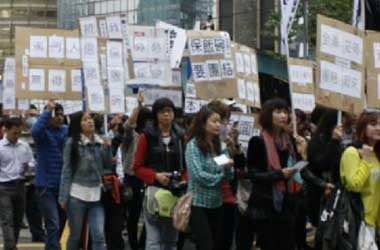 The autonomous region of Macau has long been known as one of the largest gambling meccas in the world. Certainly, it operates as one of Asia's biggest gaming hubs today, with revenues coming in at around $30 billion. Yet, while this is all great and well for Macau itself, there's a certain group of people who aren't satisfied with it – the casino workers. So, what has frustrated these people so much?
To begin with, a little bit of a background on Macau's gambling industry. It's home to a total of 38 different casinos, and in 2017 is brought in revenue of $33 billion from these. When you compare this to Las Vegas – the USA's largest gambling location, which only brought in $7 million last year – the scale is massive. Yet, for the past two or three years, the industry has actually suffered under huge money laundering scandals and corruption seeping its way in. To add to this, the Chinese government stopped officials from taking clients to the land-based casinos for a session of entertainment. That being said, Macau has been tackling these problems and is making some progress towards rectifying them.
When it comes to the workers of the casinos though, their largest complaint has been about Macau's Tobacco Prevention and Control Law. The new legislation has been praised as a method of cutting down cigarette smoking within casinos. Yet, workers are complaining that the law is basically violated by many gamblers who attend the casinos, especially when it comes to the high roller rooms. It is said that VIP clients who enter these locations constantly violate the smoking law, and it doesn't seem like the establishments have any desire to stop them from doing so. These clients do provide about 60% of the revenue for casinos in Macau.
Where Do They Go from Here?
The smoking law is supposed to ban cigarettes on all gaming floors of land-based casinos, with the only locations available for legally doing this being in specific smoking lounges. While it's true that several parts of the law don't go into effect until January next year, workers have said that most gamblers have their own sense of mind about the law and do as they please – VIP or not.
The other two complaints that workers are protesting about is the fact that working conditions within the casino are so bad. Many have stated that they suffer frequent verbal and physical abuse from clientele when losing their games, with the physical abuse taking place more so in the VIP lounges. Protests are calling for security to be increased dramatically at the casinos to deal with these gamblers.
Furthermore, workers are requesting that the tips given to employees on all floors are shared for the duration of the casino shift. Another key point of this is that workers want to be informed of how much in tips is generated per shift, so as to ensure that this is distributed equally between all staff members.
The casinos in Macau have reacted to the complaints and have stated that they are working as quickly as possible to rectify issues. Separate smoking rooms are being built for both traditional and VIP clients at all locations. Yet, the casinos have also stated that they cannot fully police everyone who is smoking and that workers can help out by requesting that players put their cigarettes out. However, workers have fired back stating that this is something the casinos should monitor and deal with, especially when clients can get abusive over such matters.