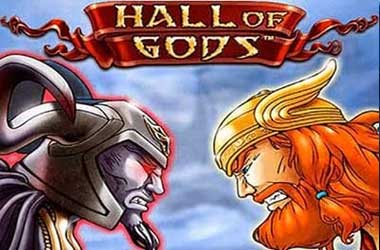 One lucky gambler from Aberdeen has picked up a vast jackpot win at online gaming location Casumo Casino…on his first visit! Just one hour after registering and making his initial deposit at the platform, the man scooped £6.3 million on a slot game bet of just £4. It could be said that luck was certainly on his side!
The Aberdeen resident who is known solely as Neil, was left without words as he managed to hit the huge jackpot win!
Neil opened his casino account at Casumo and made an initial deposit of just £30. It was only when he made the wager of £4 on a popular Netent progressive jackpot game – Hall of Gods– that the jackpot win occurred. This marks the largest win that has ever been recorded at Casumo Casino.
To begin with, this lucky gambler wasn't quite sure that he had actually won. He made sure to call his wife to take a look at the laptop screen that he was playing from. After the initial shock and uncertainty, things began to sink in.
He then went on to call his parents,
"From my voice they knew something was up. I told them I'd won some money"
he said. Then, he went on to write down the entirety of the win on separate paper sheets. These were then laid on the floor for Neil to ask his parents to take a guess what they were relative to. His parents' first thought was that he'd written down a number for the lottery.
A Big Winner for Casumo
Neil, an avid fan of Liverpool football club, intends to buy a season ticket, maybe even a box in order to see his favourite sports team play. As well as this, he aims to buy a holiday residence for his parents in Tenerife. Further to this, he intends to take his young children away to the Disney World resort. A holiday in Australia where his sister lives is also on the cards.
However, Neil is also a supporter of MacMillian Cancer Research. Therefore, he intends to donate a portion of his jackpot to the charity.
As we said, this win stands at the biggest one ever won at Casumo. In fact, this jackpot win breaks the previous largest figure. And it does so by just about double the amount. Despite this, Neil's win is actually the fifth huge jackpot that has been claimed at Casumo this year.
A spokesman for the casino, Danny Rahim said that £6.3 million is one of those life-changing sums of money. He went on to state that the casino is glad that the jackpot found itself in what he described as "a good home".
The Casumo platform has been in operation since 2012 and remains a popular location for gamers to play slots, table games and more. It hosts games from companies such as Microgaming, Barcrest Games, Elk Studios and Netent. Players are able to access the range of games via a desktop computer or a mobile device.