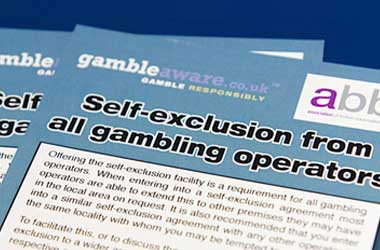 The self-exclusion option – which is in place for those gamers who believe that they have a gambling problem – has been available for a while now. However, one man has come forward to reveal that even though he had chosen to self-exclude, he was still contacted by an online casino to return. And not only that, but the platform tried tempting him with a £100 bonus prize as well!
Andy Fowler chose to self-exclude himself from the online platform known as Leo Vegas. He had lost over £40,000 in a two-year timeframe while playing at the casino, by which time he had come to the realisation that he was addicted to gambling. It was at this time that he took the decision to go via the self-exclusion route, banning himself from the platform. However, only a few weeks later while he was still battling his addiction, Andy received a text message from the casino.
This message invited him to return to Leo Vegas and claim a £100 prize. Prior to excluding himself from the casino, Mr. Fowler had entered himself into a prize draw and ended up winning.
Should the Player Have Received Such Contact from the Casino?
It's true to say that the player had chosen to exclude himself from playing at the casino. However, the £100 prize that he had won was his money by rights. That being said, Mr. Fowler is of the strong mindset that he should not have been contacted by Leo Vegas at all, believing that a message to collect winnings would have been quite the encouragement to his addiction. Despite the fact that Andy would not have been able to spend the £100 at Leo Vegas, there was nothing to stop him from taking it elsewhere.
As part of the UK Gambling Commission's efforts to reduce problem gambling, gamers are able to self-exclude from any online casino or gaming site. This exclusion can last up to five years in total. During this time period, the player should not receive any kind of contact from the platform. Furthermore, promotional content should not be sent to them.
The response from Leo Vegas was that the reason for the message was solely to inform him of his winnings in the prize draw. The casino said that it had no intention of advertising its products to Mr. Fowler, and it believed that it was acting within the regulations of the UK Gambling Commission.
However, the inability of such a big online gaming site as Leo Vegas to not integrate stricter measures for self-exclusion players is making things worse for the UK gambling market. It was only on Friday that the Commission in the UK announced it will investigate 17 online operators over their ineffectiveness at anti-money laundering controls. Furthermore, these 17 platforms are also under review for their ability to properly address problem gambling issues.