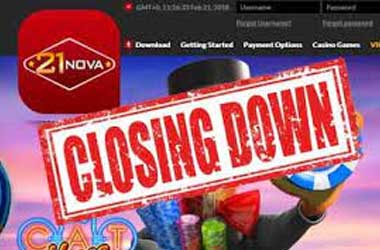 While it's always fun to report on new casinos opening in the online world, it's not as great to have to inform avid gamers about one closing down. However, that is unfortunately the case with 21Nova casino. Known as one of the online world's most well-known Playtech platforms, it has just one week left as an operational casino. The announcement of the closure was sent to affiliates of the site a couple of days ago, giving the explanation of the casino shutting down on Wednesday, February 28.
As an online casino, 21Nova has been providing a large collection of games to players since the year of 2006. The lobby includes a vast number of slots and table games, with both instant play and download versions on hand. Such a long period of being active within the gaming world will almost certainly come as a shock to both affiliates and gamers of the platform alike. Especially considering that it's over a decade old as a casino.
In the email that was sent out to its affiliates, 21Nova casino gave no details or reasons behind the decision for its closure. Therefore, everyone is left in the dark over the management team's decision behind this at the moment.
What About Funds and Current Players?
If you're a player at the 21Nova casino, then you'll still be able to access its range of games until Wednesday, February 28. This is true for deposits and wagers, as well as the possibility of withdrawals. Once this date rolls around, anyone who is still a registered member of the site can log in using their personal credentials. However, this will only be possible to withdraw any remaining funds in their account. All other options, such as game play and depositing, will no longer be available after this time.
Current players will then have to either sign up to an alternative online casino, of which Playtech has several to choose from, or continue gaming at another one if they already have an account at such.
It's still a sad time for the closure of such an online casino. The site has always been legal and fair, holding gambling licences from both the UK Gambling Commission and the Gibraltar Regulatory Authority. Furthermore, players have been able to make deposits by using one of many different accepted payment methods. And in addition to all of that, customer support has been on hand on a 24/7 basis, providing assistance whenever necessary.
All of the signs about 21Nova casino seem to point to it being successful, especially with the long online shelf life that it's had. However, perhaps the site management company will provide additional details in one week of its decision to shut down the platform once and for all.