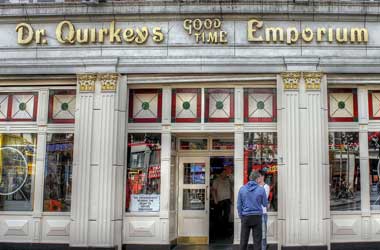 Dublin city is one of those places that tourists love to travel to and experience. It has many attractions, including arcades, for people to enter and enjoy. However, these arcades are only supposed to provide people with amusement machines to play on. A law exists in Dublin that states casino gaming machines, such as the ones that provide video blackjack, poker and roulette, are not allowed.
Yet, it has been discovered that a number of establishments within Dublin city centre have taken to providing these gambling machines. The biggest of these breaches of law comes from Richard Quirke, who owns a land-based arcade known as Dr Quirkey's Good Time Emporium. While this still operates as an amusement arcade, it has also been found to contain the aforementioned casino-style offerings, too. A whole neighbouring building has been converted into a facility for casino gambling purposes.
Mr Quirke, who is worth an estimated €40 million, operates his establishment with a licence from Ireland's Revenue. However, this licence is only applicable to arcade games, not casino offerings. Due to a law brought in by Dublin City Council back in 1988, licences for gambling machines are completely banned there. Yet, it seems as though operators have taken to utilising the fact that they hold an arcade licence to also provide casino gambling games. Dr Quirkey's is not the only establishment doing this in Dublin, it would seem, with at least two more found to be providing the same.
What Is the Difference Between Arcade and Casino Machines?
Both arcade machines and casino machines require players to insert money and, in essence, try to win something with a gamble. However, the Revenue's definition relating to an amusement machine is very different to that of a casino gambling machine. For the former, these machines will not allow players to win any more than "an opportunity to play again" or "to obtain a non-monetary prize". The value of this cannot exceed €7.
Yet, the gaming machines inside Dr Quirkey's – while still offering some arcade options – are mainly casino-style terminals, allowing players to place bets of up to €2,500. Additionally, above these machines, players can generally see a sign that says, "Fun for All Ages".
On further investigation, no age checks were done at the establishment to ensure that no underage players were accessing the games, either arcade or casino. Furthermore, Dr. Quirkey's doesn't appear to have taken measures against money laundering on these machines, leaving them open for gamers to be able to criminally do just that.
It's possible that operators have realised that amusement licences that can be held within Dublin are cheaper than gambling machine licences, which can only be held outside the city. According to a 2015 report done by the Gaming and Leisure Association Ireland (GLAI), if these establishments held proper licences, an extra amount of €2.2 million would be generated from such, while a further €8.7 million would come from VAT.
Surprisingly enough though, the report also discovered that of all the 7,559 licences that had been issued for amusement purposes, about 5,000 of these were also being used for casino gambling machines, too.