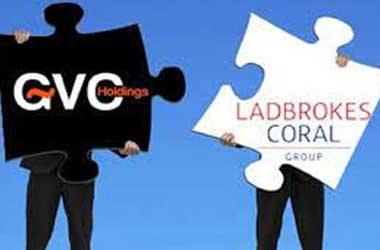 It's an enthralling and exciting time within the gambling and UK casino world, for sure. Of course, these times are not always filled with thrills, as has been the case with the recent UK Gambling Commission finds. However, certain news has come to light that two powers within the sports gambling sector may join forces. The CEO of GVC Holdings, Kenny Alexander revealed that his company is currently in talks with the Ladbrokes Coral Group regarding a potential merger!
Not only that, but the deal also has support from both companies' board of directors. Therefore, it's very likely that the deal will proceed. This means that a combination of the two companies will have an annual net gaming revenue of above £3 billion. This is because the key brands that GVC is responsible for include bWin, SportingBet and PartyPoker. Of course, Ladbrokes is also the owner of a couple of different online platforms, as well as numerous land-based betting shops. With the merger, the group should receive 56.2% of its revenues from the digital market, while 42.9% comes from retail.
History of the Companies and the Upcoming Merger Details
GVC Holdings is a leading provider of B2B and B2C services for the online gambling and sports betting markets. It has always had an existence online, but never anywhere else. On the other hand, Ladbrokes started out as a land-based company in 1886. It went on to merge with Gala Coral about a year ago, further expanding its reach. Ladbrokes Coral has been going from strength to strength over the years since its inception.
When the deal was announced by Alexander, it was quite minimal when it came to specifics. However, it did give many pointers that mutual competence was a thing between the two companies. As part of his statement, he said that the larger company group would be a lot more geographically diverse and able to provide a large portfolio of businesses. Additionally, any transaction that does take place between them would also enhance their position in several of the largest online gaming regulated countries. Such locations include the United Kingdom, Italy and Australia.
As far as the presentation by the GVC Holdings CEO went, several points were brought up. For example, 90% of net gaming revenue would come from locally regulated and taxed markets. Also, a portfolio of strong brands, high-class CRM systems, and the opportunity to provide the best customer experience within a responsible gaming environment. Significant exposure to the US market as well as growth within Australia was also made mention of alongside.
He also went on to say that GVC's previous experience with acquisitions has always been successful. Alexander made reference to the purchase of Party Gaming and SportingBet by GVC, also stating that group revenues went above and beyond being doubled.
Of course, a dominant position in the UK for the merged group would also be achievable, as well as a sizable presence in several other international locations. To put that into perspective, the group could be making €19 billion in interactive gross gaming revenue on a global scale. And this would account for more than 50% of the entire world's total revenue.