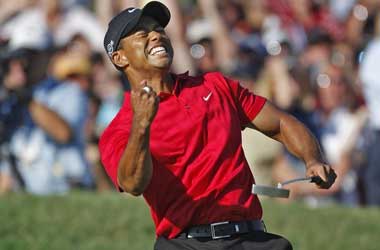 Tiger Woods has had a very up and down career over his years as a golfer. From shooting to stardom within the sport only to come crashing down once rumours and proof of his private life affairs went public, he's been quite the focal point for the sport. However, it seems as though he's now back at the centre of things, with betting interest in the recently finished Masters Golf Tournament of 2018 surging to a high, thanks to his return.
This particular golf tournament generally garners more sports bets than all others on the PGA tour, but the 2018 bets went on to exceed £12 million in Nevada, the only state accepting sports bets at the moment. That marks a record for the tournament. Tiger Woods may be making things a bit more special this year with his return, but other stories do factor into the reason for the surge. For example, the resurgence of Bubba Watson and Phil Mickelson for a start. Not only that, but there's been a great wave of young and sharp golfers who have been competing in the tournament too. They have all factored in to the plethora of gamblers placing sports bets on this year's Masters.
The golf oddsmaker at Westgate sportsbook (which is also host to an online casino and poker room) and the owner of Golfodds.com, Jeff Sherman said that over the last ten years since Tiger won his 2008 U.S. Open, any tournament that he has been involved in would see a significant spike in sports betting handles by around 20%. However, this season, tournaments that he has involved himself in have seen sports betting wagers increase by around 30%!
Bettors Place Their Bets on Woods
Despite his chaotic private life being made public, Woods' golfing talent hasn't been marred by such. More wagers were placed on him to win this year's Masters than on any other player at Westgate's Superbook. These wagers on him accounted for around 6% of all bets placed, which is massive considering the tournament had 87 different players competing for the win.
That being said, the tournament – which ran from April 5 to 8 of this year – didn't see Woods shoot to the top spot. In fact, he barely got anywhere near it, coming joint 32nd with three other players – fellow American Daniel Berger, Chinese player Li Haotong and Australian golfer Adam Derek Scott. While this may have been a big disappointment for all those bettors who wagered on him to go forth and win the entire tournament, it is thought that increased wagering on golf in general won't disappear.
The US Supreme Court's decision on legalising sports betting is looking more positive as the days go by and the PGA is actually one of the professional organisations that has declared its intentions for this occurrence. It looks to align its goal with certain ideas put forth by both the NBA and MLB, thereby requesting an integrity fee to be paid to the various leagues by the gambling entities who choose to provide sports betting.