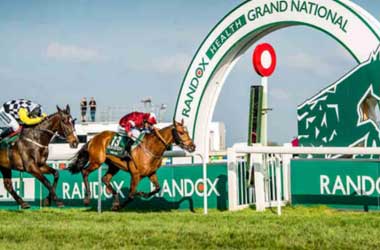 The Grand National is always an event to get excited over. After all, it's perhaps the biggest horse racing phenomenon to take place every year. The 2018 Grand National recently finished and managed to also break records as far as online gambling is concerned. Multiple companies came forth to report such high figures of people placing wagers on the event.
As the steeplechase event came to a finish on April 14, numbers show that betting on horse racing remains at a popular and increasing level in the UK market. Not only that, but in the days leading up to the race at Aintree, a 60% increase in betting activity over 2017 was recorded by SafeCharge.
This company processes payments for multiple different industry operators and 2018's Grand National is said to have brought cumulative bets of over £200 million. These figures also show that online betting (in relation to both sportsbooks and online casinos) is the most popular method of sportsbook wagering for gamblers now. Backing up these figures and this claim, the data analytics company known as GBG reported that double the amount of betting activity in the final minutes had taken place this year in comparison to last. Figures from this company showed that a total of 32% of the total online bets made took place within the final hour before the Grand National was due to begin.
Strong Desire for Instant Action
Peter Murray, working as the Head of Gaming at GBG spoke of the desire for instant action in the sports betting world. He said that for betting firms, this means that
"their technology infrastructure has had to scale to manage the growing spike in traffic…".
These companies have also had to optimise marketing in order to be able to reach customers in such a short space of time that they're looking to choose their winners.
Despite the fact that final figures from most leading betting sites in the UK have not yet been published, the Smarkets platform accepted £57.4 million in wagers on the Grand National race. And this is one of the UK's smaller sportsbooks. Even though this is the case, the platform saw an increase of 29% year-on-year as far as real money bets go.
Of course, such news is great for online bookmakers operating across the United Kingdom. Turnover from off-course bets has actually dropped from a total of £5.7 billion to around £4.4 billion between the years of 2009 and 2017. Therefore, any spike in activity will be a welcome change.
Yet, even with this increase in horse racing wagers, most sportsbooks will actually be counting the cost, thanks to the winning horse, Tiger Roll. It started out the Grand National race as a favourite to win at 10-1. While it did begin towards the back end of the pack in the race, it had a burst of energy towards the end and overtook all to become the winner, eking out Pleasant Company. This may have brought great fortune to sports bettors but will leave platforms losing out with a huge volume of pay-outs to make.