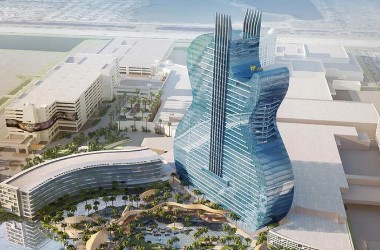 The United States of America has never been known for doing things by halves, and the new Hard Rock Hotel and Casino in Hollywood, Florida is already proving that – and it's not even finished yet.
The 450ft-high building, which is shaped like an electric guitar and costing $1.5 billion to construct is heavily under way though, with the body of the instrument already built up. Once completed, the guitar-shaped hotel will feature 36 storeys, and will rise high over the Florida coastline. It's set to be opened in summer 2019. Guests staying there will have the opportunity to access rooms that span the entire width of the guitar.
Some have commented on the fact that the construction will most definitely boost the city's tourism industry, although this sentiment hasn't been shared by all. There has been some backlash against the building, with residents of Hollywood deeming it "ugly". Of course, it's bound to look that way while still under construction. Other comments on the hotel deem it a "monstrosity" and "a blight on our land", according to the lifestyle website Miami.com.
Social media has had an outpouring of negativity towards the Hard Rock construction too, with one user of Reddit going so far as to express that
"It's just tacky as hell"
However, for all the negative comments, the building has also had some positive responses to it.
Looking for the Positives
The guitar design was actually the idea of the chairman of Hard Rock International, James F. Allen. A hotel already exists on the site where the construction is taking place. However, in a bid to expand things, the guitar section was commissioned.
Within the hotel, an extra 806 guestrooms and suites will be available. A total of 638 of these will exist within the guitar tower, meaning that the guestrooms will stand at 525 square feet or more in size.
With such plans and photos of the construction being available to view online, a series of positive reactions have also been on display. One user said that they had flown over the site on the way to the airport in Florida and it "Looked so cool from the sky!".
The remaining 168 rooms and suites are to be found in a smaller, seven-storey building, which will run along the pool complex. All in all, a total of 1,300 rooms will then exist at the Hard Rock establishment, when combined with the rooms already available. As well as that, there will be a 41,000-square foot spa, a business centre, multiple restaurants and relaxing lounges.
The casino of the hotel will incorporate 3,267 slot machines, which will operate alongside a total of 178 table games. These will include baccarat and blackjack, while a poker room will be attached, too. This will stand at 18,00-square feet, enabling a mass of casino gamers to enjoy hours of entertainment within.